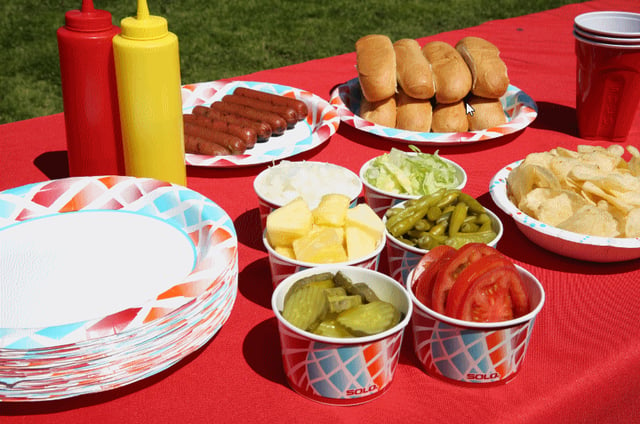 The sun is shining brighter and setting later, birds are chirping in every tree, and the sweet smell of a neighbor barbequing fills the air; summer is officially in session. But why leave the grilling to your neighbors? It's time to Solobrate! Barbeques are an awesome way to take advantage of the beautiful summer weather while spending time with friends and family, and they're easier to throw than they seem. Though hosting a barbeque can seem like a daunting task, SOLO is here to break it down and make it simple. Follow these five easy tips to throw a barbeque that'll go down in history as the best day of your summer, completely stress free.
1. Organize, Organize, Organize
The best way to ensure your barbeque goes smoothly and is stress free is to have everything planned beforehand. Making lists is an easy way to do so and writing things down helps to commit them to memory. It also feels incredibly satisfying seeing the items crossed out! Make different categories for what you need: tableware, grill items, food, drinks, activities, clean up, etc. Don't be afraid to be exhaustive. Planning your barbeque ensures you're able to relax and enjoy yourself the day of.
2. Don't Forget the Essentials
It's easy to get so excited about seeing friends and family that you overlook the essentials. You may be totally fixated on remembering the special soda that Aunt Karen likes that you completely forget hotdog buns and end up having your guests eat their hotdogs out of hamburger buns. While this situation wouldn't be the end of the world, forgetting to defrost your meat--or forgetting meat at all, would be. (Okay, not the end of the world. But definitely the end of your barbeque).
Here's a list of some essentials:
Hotdogs & buns.
Hamburgers & buns.
Condiments: mayo, ketchup, mustard, relish, pickles, tomatoes, onions, etc.
Sides: chips, fruit, vegetables, dip.
Drinks: soda, water, juice, alcohol/mixers if desired, ice.
Napkins & cutlery.
Solo® Cups & Solo® Heavy Duty Paper Plates.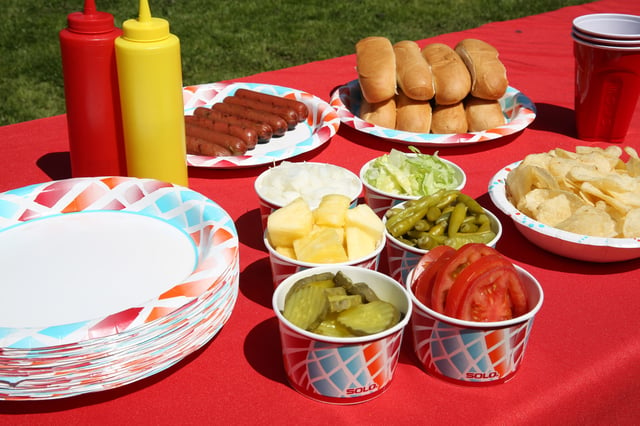 3. Don't Stress About What You Don't Have To
No one likes taking time away from the fun to clean or wash dishes. Make clean up simple by having garbage and recycling bins set up before guests arrive, having a large supply of napkins on hand, and using disposable dishware and utensils. We recommend buying different colored Solo® Squared Cups to ensure everyone remembers which drink is theirs, using Solo® Heavy Duty Paper Plates and bowls for food, and having the Solo® Squared® Plastic Cup, Lid & Straw Pack on hand if you're planning on moving your barbeque elsewhere later on, like if you're going to a park to watch fireworks on the 4th of July!
4. Designate Roles
There's only so much one person can do at one time. To avoid feeling overwhelmed, designate roles. Have family take shifts on the grill, and designate a DJ to keep the music flowing. Alternatively, make a playlist beforehand that is at least half an hour longer than you anticipate your barbeque going--once the fun starts, you may not want it to end!
To help get you started, we put together this list for you. Add or subtract as needed!
DJ
Chef (ex: Mom grilling from 2:00-3:00, Dad on call for second helpings from 3:00-5:00)
Photographer
Runner: refills ice bucket, gets napkins/trash bags when needed, etc.
Babysitter: consider asking one of the older kids to look after the younger ones to make sure the day goes smoothly
5. Remember to Have Fun
Even though you're hosting, you're meant to enjoy you're party too! Don't stress about whether you're guests are enjoying themselves: we assure you they are. After all, what isn't to enjoy about good food, good music, and good company? Pour yourself a drink in your Solo® Cup, dance to the music, and unwind.
If you follow these tips, we promise that you'll have the best barbeque in town. Before the night is over you'll be asking yourself when you can host your next! Buy all of your Solo® Products NOW at Walmart!
Whether you're barbequing for 4th of July, Memorial Day, Labor Day, a birthday, or just celebrating beautiful weather, here's to a summer full of good food, laughter, and SOLObration.
Did we help you throw the best BBQ ever? Enter our SOLObration Sweepstakes for the chance to WIN a SOLObration Sampler!