What could be better than game days? The feeling of the crisp autumn air, the unmistakable excitement of watching your favorite team alongside friends and family, enjoying delicious snacks and drinks...it's a little slice of heaven. SOLO wants every game day the best you've ever had, so we've compiled a guide to help you make that happen. With our guide, you'll be the champion of the tailgate!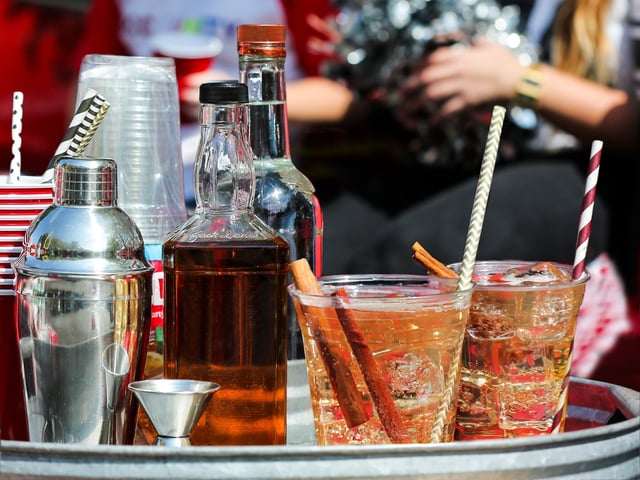 First things first--it's not a tailgate without something to sip on. Sure, you could drink a beer--but what's festive about that? Win over all Pumpkin Spice lovers with this Apple Pie & Pumpkin Spice Beer Cocktail. A mix of pumpkin ale, bourbon, cinnamon, and apple cider, this cocktail tastes like Fall in a cup. It's totally classy (even featuring a cinnamon stick!) but takes nearly no time to prepare--and aren't those cocktails the best? Less time preparing = more time spent with friends (and the game!). And with our plastic cups, you don't have to worry about cleaning up, either!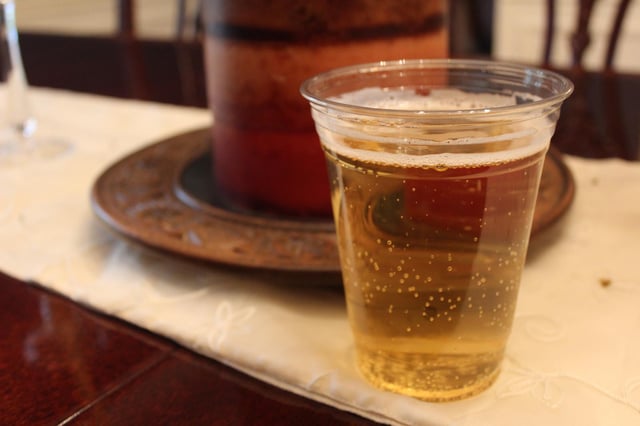 Mix things up by enjoying an Apple Cider Mimosa! Simply swap out orange juice for apple cider, and you've elevated this classic brunch drink to an unexpected Fall cocktail that's sure to become a new favorite.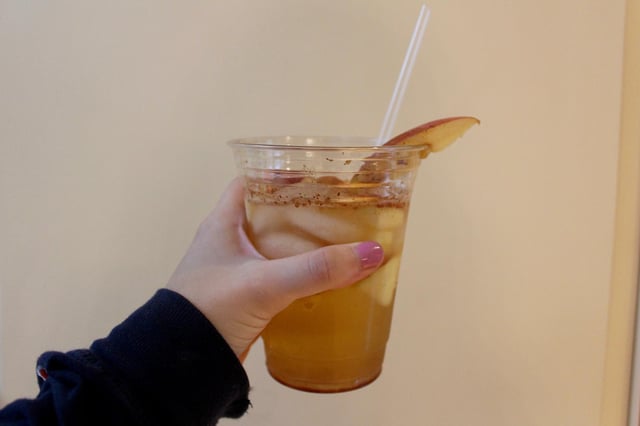 If you've fallen in love with Apple Cider Mimosas, you're going to love this Apple Cider Cocktail. Bursting with crisp apple, hints of cinnamon, and just a bit of lemon, it's refreshing and light, unlike many cool weather drinks. Can you tell we're totally in love with Fall and all its flavors?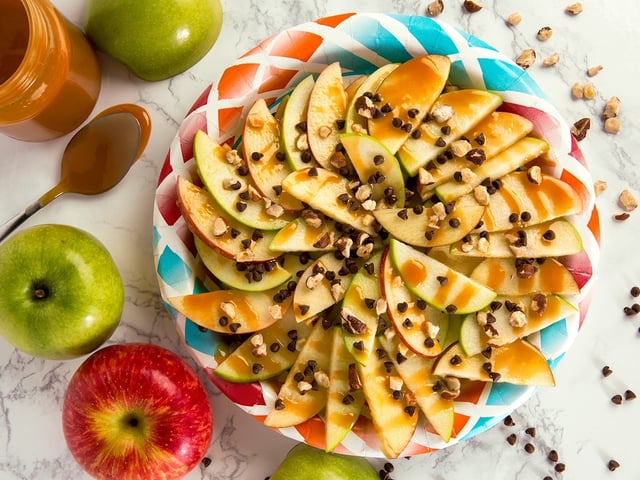 As you've probably noticed, SOLO is into mixing things up. We're lovers of all things classic (like our cups!) but it's always fun to add a new twist on a fan favorite (hello, SOLO Squared). Nachos are a perfect game day food; they're delicious and so easy to share, and these Caramel Apple Nachos are no exception! The green apples provide a tangy compliment to the sweetness of drizzled caramel and chocolate chips, satisfying both cravings simultaneously. Best of all? With our paper plates there's no need to worry about scrubbing a sticky, caramel covered plate clean after these have been devoured!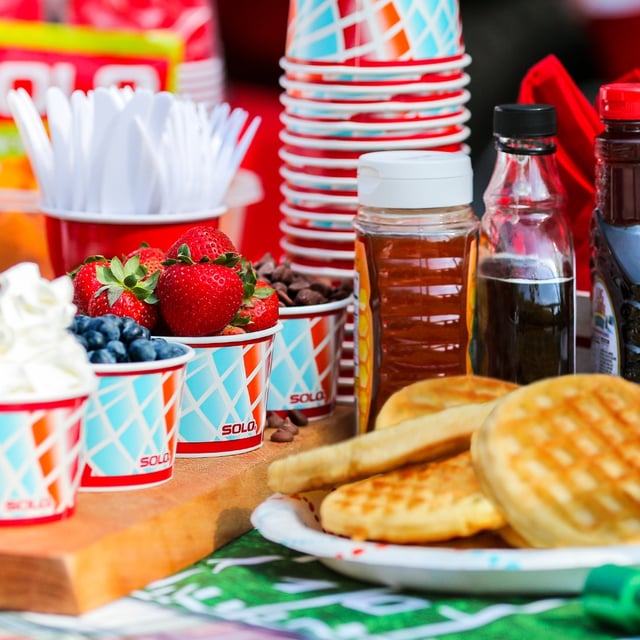 So many tailgates begin early in the morning, yet most of the classic tailgating snacks don't cater to breakfast! Bring brunch vibes to game day with a DIY Waffle Bar. It's a breakfast that all ages love, and provides you & your guests the ability to customize your waffles to your liking--a perfect way to make sure everyone is satisfied! Set out items like syrup, chocolate chips, whipped cream, powdered sugar, honey, and fresh fruit for those who like their waffles to be sweet, and peanut butter and jam for those who like them to be a bit more savory. Who knows, maybe someone will make a waffle PB & J!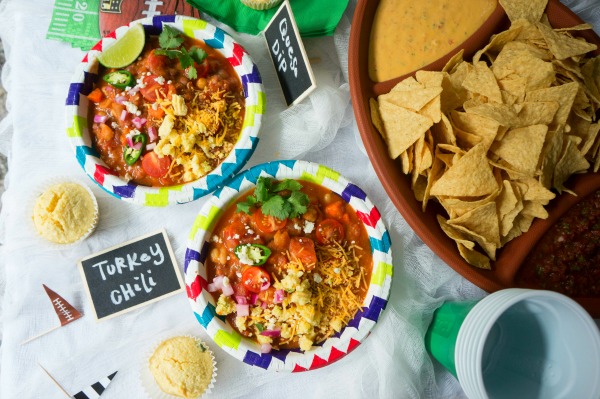 Windy City Dinner Fairy's healthy turkey chili is always a crowd pleaser and the perfect main dish for any football party. Guests always love to fill up their colorful solo bowls with a hearty serving of chili and their favorite toppings. We recommend fresh tomatoes, jalapeños, onion and cheese!
For dessert, go all out with a Funnel Cake Ice Cream Sundae. Top homemade funnel cakes with vanilla ice cream, whipped cream, fresh strawberries, and then dust with powdered sugar. Even if you're full from the waffle bar, these are so good they're irresistable!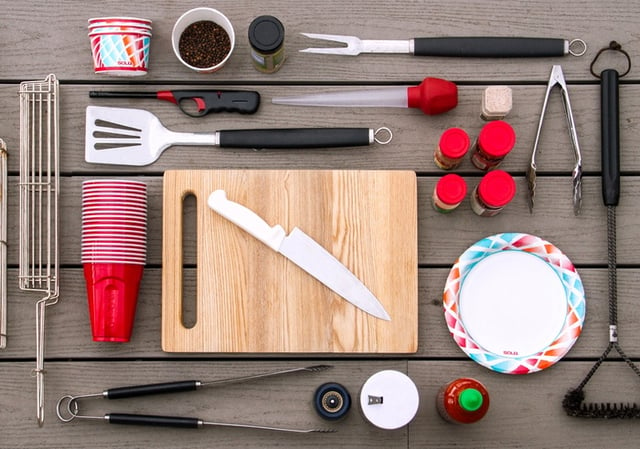 All this sounding a bit too sweet, even if it's the morning? Check out our 5 Foolproof Tips for Hosting the Best BBQ In Town, fire up the grill, and enjoy a hotdog. Who says they can't be breakfast food?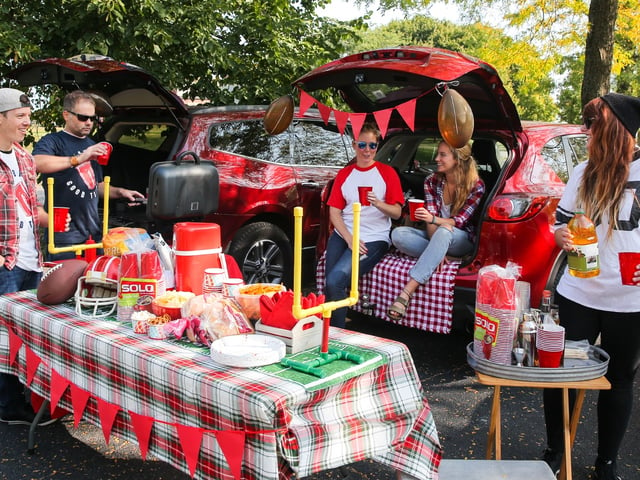 Before you watch the game, have a little fun by playing one! To play Kick a Field Goal, set up 5 cups, marking them 10-50. Using a chip as a ball, players take turns to try and 'kick' (flick!) the cup into the field goal. If the player makes it they get to move to the next marker--if they don't, they take a sip of their drink and are out! The game continues until only one player remains. Will you be the champion?
Did we help you throw the ultimate game day Solobration? Share it with us with the hashtag #Solobration!