Guest Post by Nicole Triebe of Windy City Dinner Fairy
Growing up, camping is one of favorite ways to spend time together as a family. My brothers and dad and I would head a little outside of where I grew up to spend the night in a tent in the middle of the woods.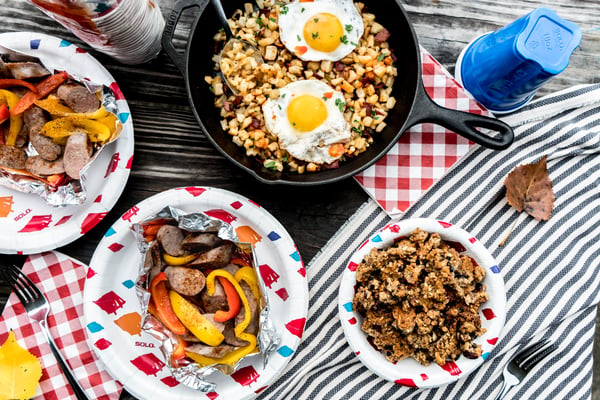 Before we left, we were sure to pack the essentials: bug spray, a warm sleeping bag and some yummy meals that were easy to prepare over the camp fire. I'm partnering with Solo Cup to show you some of my favorite camping recipes that are low stress for a night in the trees! Getting ready to go camping is a lot of work, but the recipes don't have to be!
Before we get cooking, here's some essentials you need to pack:
These camping recipes are easy to execute, but they require some cooking essentials. Here's what you'll need to put in the car:
A Cooler
Depending on how long you're camping, you'll want a cooler that will keep your food cold for as long as you're in the woods. Use ice blocks, ice packs or dry ice to keep your food cold. If you don't have a cooler, an insulated pack that shuts will work just fine.
A Table Cloth
Camping tables are not known to be the cleanest surfaces, so you want to remember to pack a thin blanket or table cloth to cover your dining table. It can be as simple as a plastic table cloth, or if you're glamping, go for a cute red and white checkered table cloth.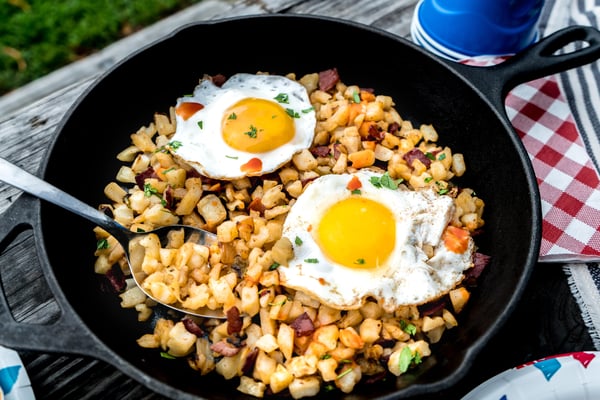 A cast iron skillet
If you're going to be cooking outside, you'll need something sturdy to cook in. I love my cast iron skillet for both indoor cooking and out. While you're cooking these camping recipes, can either put them on a grill or on the coals from your campfire.
Heavy duty plates and cups
After preparing your delicious camping recipes, you're going to want something to eat on! I love Solo's Heavy Duty paper plates. Not only are they able to hold your entire meal with no issues, they're cute to boot! Don't forget a Solo Cup for your beverages or if you make some coffee in the morning over the fire, bring along Solo's Cafe-to-Go cups with a convenient lid so you can keep your coffee hot on those morning hikes!
What are some easy camping recipes?
For breakfast, I love to make a corned beef hash and throw some eggs on top. Pick up some frozen Potatoes O'Brien at your local grocery store and add cubed corned beef to it. Cook in the cast iron skillet over the camp fire and top with eggs. Don't forget the hot sauce!
Another breakfast option is yogurt and homemade granola. If you're in a rush, you can pick up store bought granola, or make my homemade recipe! Put both in a heavy duty Solo paper bowl for an easy breakfast!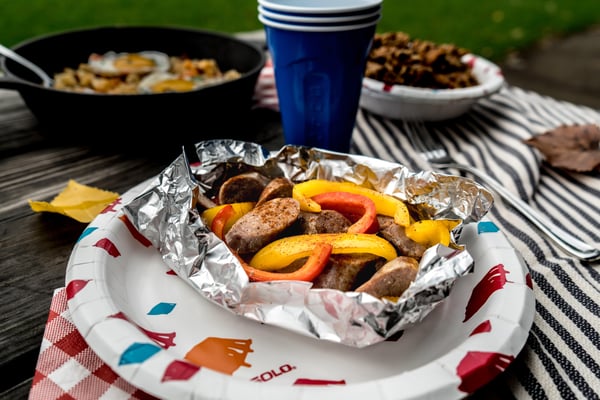 What should I have for lunch?
Making sausage and peppers in a simple foil packet is the perfect dinner around the campfire. Just combine some Italian sausage (spicy or mild) with some bell peppers for an easy meal. You can throw these directly on the coals or fire to cook and toss the foil. Serve on a heavy duty solo plate!