With Father's Day around the corner, everyone is heading to the store and to pick out a card that exemplifies just how amazing their dad is. But why settle for a card that thousands of other dad's will get when you could make him a card that is as unique as he is? SOLO is here to teach you how to make a card that is perfect for dad; it's relatable, cute, and totally customizable.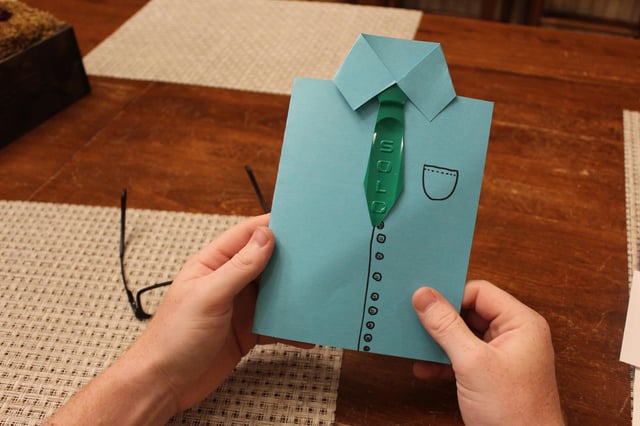 What You'll Need:
1 Solo

®

Squared cup

1 piece of colored construction paper
Scissors
Markers
Tape or glue
Directions:
With a marker, trace the shape of a tie onto your

Solo

®

Squared cup. Make this about the length of the entire cup. Set aside for the moment.

Fold your piece of construction paper in half. From the side

that will make up the back of your card until the middle crease, cut off an inch from the top of the paper.

On the side that will be the front of the card, an inch down from the top of the paper, cut slits on each side of the card that are about 1.5 inches in length. These slits will match up with the piece of paper removed from the back side.
Fold the two top corners of the front of the card together so that their top edges match up. This will make the collar of your shirt.
Place your Solo

®

tie between the two corners. Once happy with the placement, glue or tape it down. Then, glue or tape the corners of your shirt down as well.
Decorate the shirt however you want! We added buttons and a pocket. What will you add? Polka dots, stripes, the saying "#1 Dad?"
Write your dad a personalized message on the inside of your card, and have a Happy Father's Day!