...is to enjoy an NBA themed drink while you watch the game. While you could go the conventional beer route, we're encouraging you to up your creativity and go all in with these drinks reminiscent of that fluorescent basketball orange. Whether you're rooting for the Cleveland Cavaliers or the Golden State Warriors, these beverages will keep your head in the game.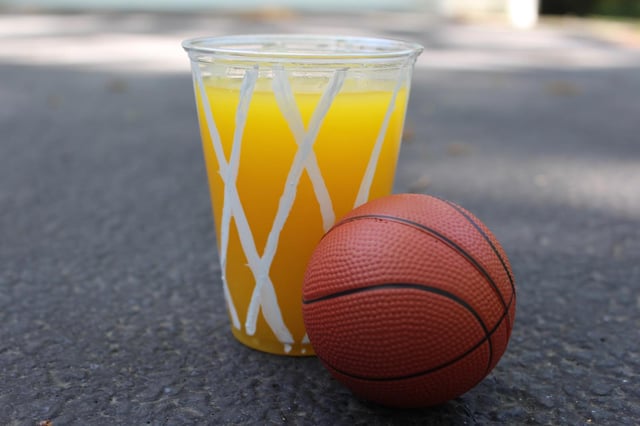 What's a good drink without an equally stellar cup? We happen to think that SOLO®'s Clear Plastic Cups are pretty amazing on their own, but if you want to spice them up for the NBA Finals, decorate them as a basketball hoop! Create this sporty cup by drawing diagonal white lines across the cup in one direction, then again in the other direction, using white paint, a paint marker, or puff paint (Hint: White-Out works wonders, and you probably already have it laying around the house!). In no time you'll have transformed your cup into a net!
Try these orange drinks:
Screwdriver: Simple? Yes. Tasty? Absolutely. A screwdriver is one of the world's easiest cocktails, and topping the list of the most delicious. All you need is 5 ounces of orange juice and 2 ounces of vodka poured into a SOLO® Clear Plastic Cup and you're ready to go. That's a slam dunk.
Tequila Sunrise: This drink has a bit more artistic license when it comes to being basketball colored, but we're trailblazers on and off the court. Mix 1.5 ounces of tequila and 3/4th's a cup of orange juice together. Pour the mixture over ice in a SOLO® Clear Plastic Cup, then add 1.5 ounces of grenadine, allowing it to settle on the bottom to create a sunrise gradient.
In a showdown, do you think the Tequila Sunrise or the Screwdriver would win? What about the Cleveland Cavaliers vs. the Golden State Warriors? Let us know what you think, and pick up all the SOLO supplies you need to watch the big game at Walmart.