Guest post by Grandbaby Cakes.
Orange Ginger Pancakes and Easy Holiday Brunch Tips – Perfectly light and fluffy winter seasonal orange ginger pancakes that are absolutely perfect for holiday entertaining!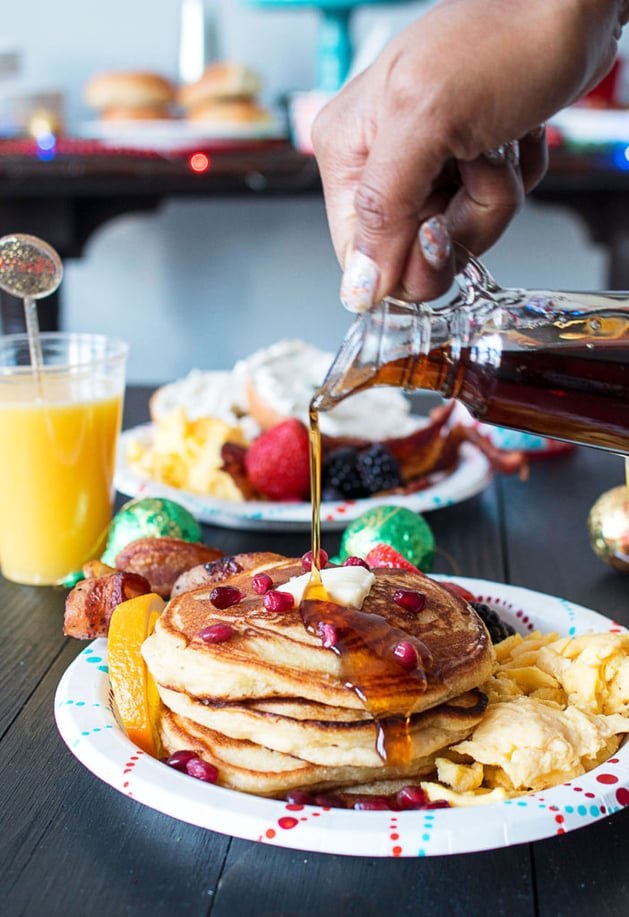 I simply love these Orange Ginger Pancakes because they are a straightforward batter that only takes a few minutes to come together. They are light and fluffy and just perfect! The pancakes have a bit of winter flair with the added orange and ginger flavors. I give an adjustment for the ginger flavor in the recipe since ginger can sometimes be strong. If you adore the flavor, go for the ½ teaspoon but if you want it to have more a subtle undertone, scale it back a bit. Lastly, a few pomegranate seeds sprinkled on your syrup will make them even better, and the colors just scream Christmas. Remember to leave a stack for Santa under the tree as well.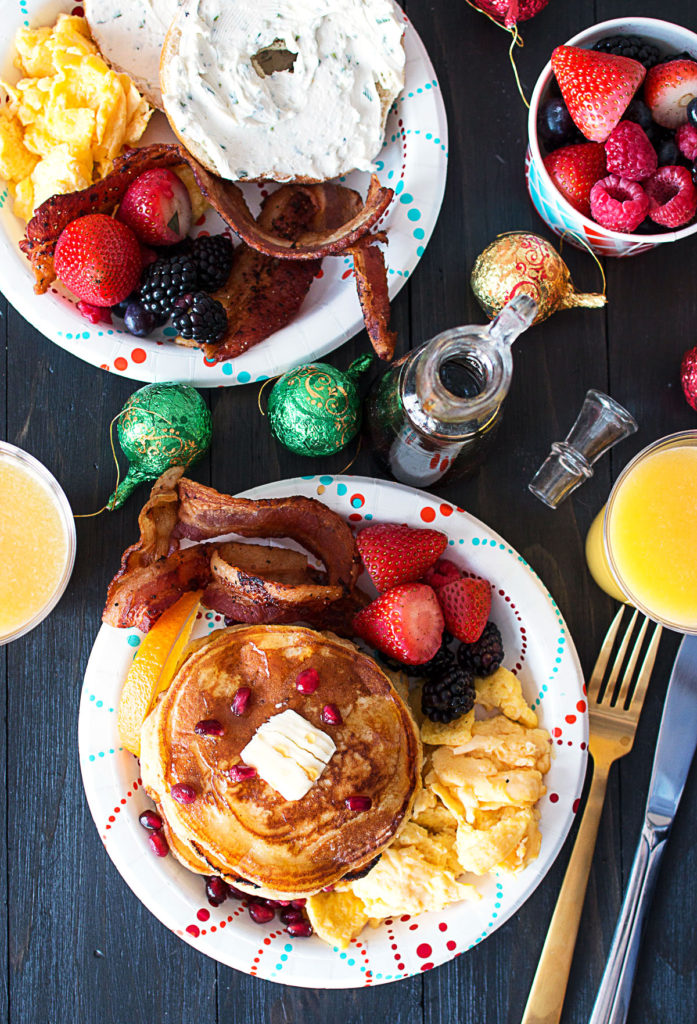 Ingredients:
2 cups all-purpose flour
2 teaspoons baking powder
6 tablespoons granulated sugar
¼-½ teaspoon ground ginger
¾ teaspoon cinnamon
3 large eggs
1¼ cups greek yogurt
¼ cup orange juice
¼ cup milk
6 tablespoons melted salted butter
2 teaspoons vanilla extract
½ teaspoon orange extract
Additional butter, melted for the griddle
Instructions:
Whisk together flour, baking powder, sugar, ginger, and cinnamon into a large bowl.
In another bowl, whisk together eggs, greek yogurt, orange juice, milk, melted butter, vanilla and orange extract until combined. Slowly whisk the wet mixture into the dry mixture just until combined. The resulting should be slightly lumpy yet still combined so don't overmix.
Heat a griddle or skillet over medium to medium-low heat. Grease the hot surface with butter. Drop ¼ cup of pancake batter on the griddle. When bubbles begin to form on top, lift the pancake halfway up to see if it's golden brown and crisp at the edges. If it is, flip the pancake and cook until golden brown on both sides. Remove to a plate with a spatula.
Repeat with the remaining batter and filling, adding more butter to the griddle as needed and cooking several pancakes at a time. Serve immediately with butter, pomegranate seeds and maple syrup.