The smell of the campfire burning, the sound of the crackling wood, and the taste of that ooey-gooey chocolaty goodness shared alongside friends; these are memories so many of us share each summer. S'mores are an all ages favorite--but what if we mixed them up? It's hard to imagine that s'mores could taste any better than they already do, but trust us. These unexpected creations are going to make your next campfire one for the record books!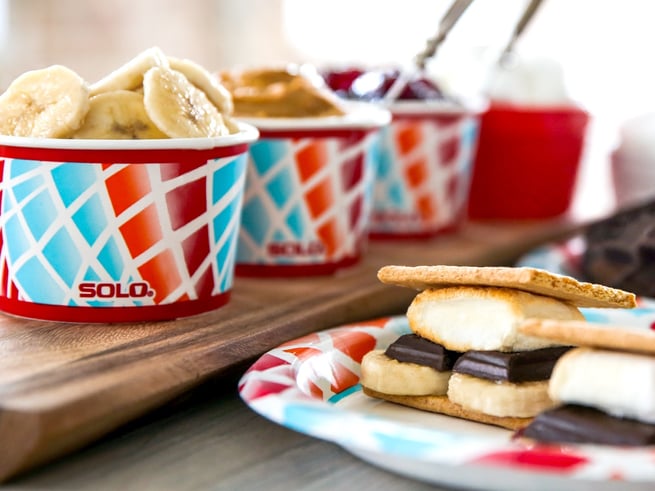 Hazelnut Spread S'mores
Hazelnut spread is exactly what your s'more needs to be taken to the next level. Amplify the chocolaty flavor (and the mess!) by spreading hazelnut spread onto your graham cracker before adding your chocolate and marshmallows. This is s'more is every chocolate lovers dream.
PB & J S'mores
Peanut butter...need we say more? This s'more is for everyone who goes crazy for a mixture of salty and sweet. While peanut butter and chocolate are an expected and well-loved combination, marshmallows and jelly aren't nearly as popular of a mix! However, these two flavors come together to make for something sweet and salty in every bite. It's the best of both worlds.
Banana S'mores
We can all agree that chocolate covered bananas are a delicious dessert, so why didn't we think of adding them to our s'mores sooner? Chocolate + bananas + marshmallows + graham crackers = heaven. Need we say (s')more?
Want to give these flavorful s'mores a taste? Keep all the ingredients you need by the campfire with SOLO® Snack Bowls, then enjoy your creations on SOLO® Heavy Duty Paper Plates. Find what you need at Walmart!
Did you try one of these creative s'more options and fall in love, or make up a wacky combo of your own? Share your SOLObration with us for a chance to win a SOLObration sampler!