By Nicole Triebe of Windy City Dinner Fairy
The key to making your guests happy is something cheesy and spicy. I'm here to complete your epic football tailgate by showing you this delicious queso dip that will please your guests even when the touchdowns aren't happening.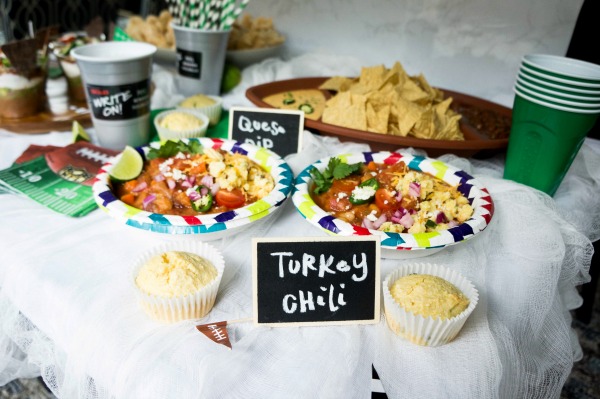 Football season is the perfect excuse to make and consume as many awesome appetizers as possible between now and the Superbowl. Appetizers will now be a perfectly acceptable replacement for lunch, dinner, and breakfast for that matter! Even better when you have an edible spoon!
On that note, I want to talk about the best queso dip ever! I've had a number of queso dips in my day, and this is one of my favorites. It's made in a slow cooker, so you can focus on the million other things you need to prep before guests come over.
To make this amazing queso dip, I started by browning ground chorizo with an onion on the stove top, then adding a big jalapeno. After these are browned, toss some Velveeta in the slow cooker (don't knock it til you try it!) and two cans of fire roasted diced tomatoes. After you run around the house making sure everything is in place, the dip will be nice and melted down! Then, just keep it on warm, give it a good stir before the guests come over, grab your chips and dig in.
I topped my queso dip with extra sliced jalapeños and a little fresh cilantro and sliced avocado. Serve next to those big colorful solo bowls so that your guests can get a big spoonful with a side of chips all in one bowl. They can even reuse the bowl for the healthy turkey chili later, because who doesn't love the chili and cheese combo?!? Pair with a frosty beverage in Solo's Write-On Plastic cups, because you're going to need something to quench your thirst with this spicy dip! I love that you can keep track of whose cup is whose by writing your name on these party cups!
A final few tips for an epic tailgate:
We all know that the TV will be on, but provide some entertainment for the guests that aren't as into the game. Bocce ball in the yard or a little cornhole will keep those guests happy Radio with the game on, TV, you name it. Anything goes for your tailgate party! I also love to break out corn-hole or other yard games to keep kids of even adults entertained!
Finally, figure out what tables you'll need to put all the food on. If you're hosting outside, make sure there's adequate space for guests to sit down and eat as well.
Have fun and cheers to a successful tailgate season!
---
Slow-Cooker Chorizo Queso Dip Recipe
Ingredients
1 lb chorizo
1 yellow onion, finely diced
1 large jalapeños, seeded and finely minced
⅔ cup water
2 tablespoons taco seasoning mix
32 ounces Velveeta cheese, cut into cubes
2 (10-ounce) cans fire roasted diced tomatoes
2 tbl cilantro, chopped
Directions
In a large skillet, brown chorizo and onion over medium heat until the meat is no longer pink. Drain. Add the jalapeños, water and taco seasoning, increase the heat to medium-high and cook, stirring frequently, until the liquid has evaporated. Remove from heat.
In a 4 to 6-quart slow cooker, add the Velveeta cheese and the cans of diced tomatoes. Stir well and cook on low until the cheese is completely melted, 1 to 2 hours. Give it a good stir and add the cilantro right before serving.