This nontraditional take on a salad is perfect for lunch at the office, as a side at a picnic or a party, or for dinner any night of the week! The fresh ingredients burst with flavor, and with minimal cooking or prep, the true flavors of this dish can shine without you needing to slave over it in the kitchen. Not to mention the fact that the vibrant colors are absolutely beautiful! This summer, try this Cherry Tomato, Asparagus, and Avocado Salad!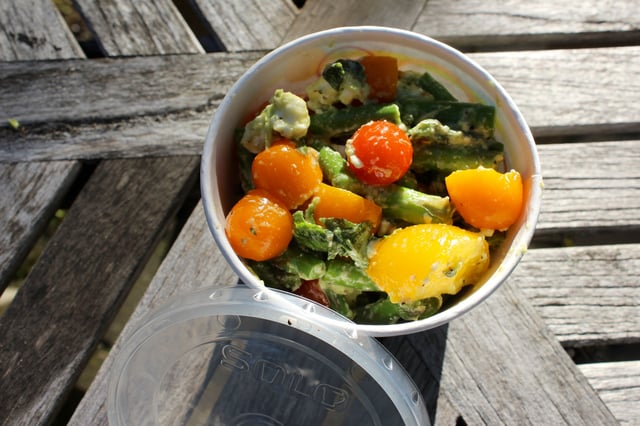 What You'll Need:
1 large bundle asparagus
4 cups multicolored cherry, grape, and pear tomatoes
1/2 cup crumbled feta cheese
1 ripe avocado
1/4 cup extra virgin olive oil
2.5 teaspoons Dijon mustard
1 cup sliced basil leaves
Salt & Pepper to taste
How To Make:
Bring a pot of salted water to a boil, and boil asparagus for 3 minutes.
Drain asparagus, then splash or submerge in cold water to stop cooking.
Cut tomatoes in half. Once cool, cut asparagus into smaller pieces.
Cut avocado into small squares.
Slice fresh basil leaves into small pieces.
In a large bowl, combine asparagus, tomatoes, avocado, basil, and feta.
In a separate bowl, mix olive oil, mustard, and salt & pepper together to form a dressing.
Pour dressing on top of salad, making sure to mix thoroughly so the salad is evenly coated.
For on the go eating, serve in a Solo® Bowls to Go. If at home, serve on a Solo® Heavy Duty Paper Plate.
Enjoy!
This salad is incredibly versatile, and pairs well with other fresh vegetables and ingredients. Try this salad as is or enjoy with other additions like corn or watermelon!