By Nicole Triebe of Windy City Dinner Fairy
I may not know who's playing the game, but I know how to host an epic pre-game! Who is here for the snacks? Follow my tips to hosting an epic tailgate party this football season.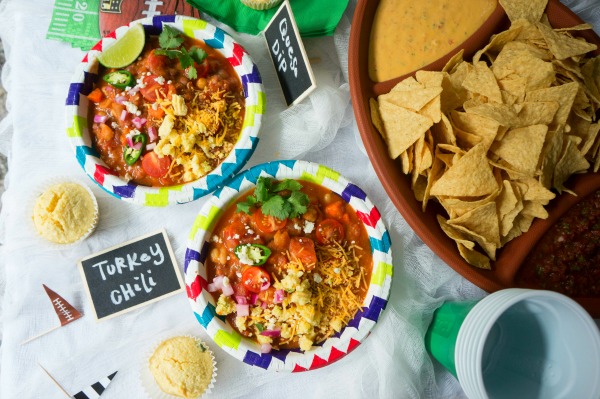 Fall is here, and that means it's the start of yet another football season. Now I have to be honest, I don't know much about football. Before meeting Allison, I didn't care much about it either. However, she went to the University of Michigan, and will not miss a game of theirs. So as a loving and supportive wife, I find myself yelling "GO BLUE" every Saturday while they play.
What I can get on board with is ALL THE SNACKS! I don't care who wins the game, but I do care what's on my table when we're watching that ball spiral through the air. So invite all your friends over for an epic football tailgate party with the best snacks ever.
Throwing a Football tailgate party at home can be a bit overwhelming, but I'm partnering with Solo Cup to show you how to make it super easy on you, and super delicious for your guests.
First, some tips on making every get-together a little less stressful:
Ask everyone that is coming to your party to bring an item. Being a nice host is great, but I know when my friends are coming over, they're always asking what they can bring. At first I hesitated saying something, but after stressing a little too much before the first couple parties, I was happy to let some of the guests help out in contributing at my next party. Make it simple and give everyone a small item. I usually tell my guest to bring a drink of choice, or if planning on making a really delicious dip, they can bring the chips. A bag of ice is always key (and something I never think about)
Don't break the bank on decor for this tailgate party! I love getting a couple items at my local party store that can be used at a lot of different occasions. I happened to have some football napkins from last year lying around, so I put those out, but I picked up some green napkins to go along with the theme. I can always use these for Christmas or Halloween later on. I found these super cute

football cupcake picks

at my local party store that I can use on

cupcakes

or in these cute individual seven layer dips! I tossed some around the table as well just for an extra touch.
Lastly, I got these tiny reusable chalkboard stands that I used to label all the food on my table. The chalk marker is erasable, so I can use them again for my next party! (To get the chalk completely off, use a magic eraser!)
Now for the star of the show: THE FOOD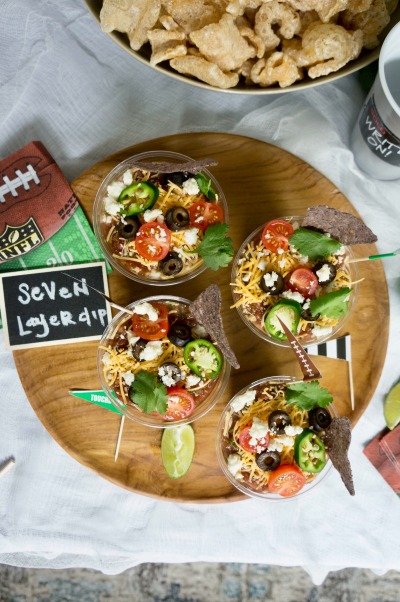 Everyone's favorite tailgate party dip: the seven layer dip. I wanted to make these fun for the kids as well as the adults, so I created individual servings using Solo's 9 oz clear plastic cups. These cups were perfect for layering refried beans, fresh guacamole, sour cream and salsa. I love that you can see all the colorful layers in these clear party cups! I topped mine with jalapeños (because I like it spicy) fresh cilantro, olives and cheese, and inserted a chip on top and a football party pick for the perfect individual appetizer for my guests!
As a sidekick to the seven layer dip, I knew I had to make my delicious healthy turkey chili.
My healthy turkey chili is always a crowd pleaser and the perfect main for any football party. My guests always love to fill up their colorful solo bowls with a hearty serving of chili, and top with their favorites. Fresh tomatoes, jalapeños, onion and cheese are my go-to toppings for any chili bowl, what are yours?
---
Healthy Turkey Chili Recipe
Ingredients
1 tbl olive oil
1 pound ground turkey
1 onion, chopped
4 red chilis diced (add more or less depending on your preference)
1 tsp worcestershire
1 (28 ounce) can canned crushed tomatoes
2 (16 ounce) can tomato sauce
2 (16 ounce) can kidney beans – drained and rinsed
1 tablespoon garlic, minced
¼ cup chili powder
1 tsp cumin
1 tsp black pepper
1/2 teaspoon ground cayenne pepper
1/2 teaspoon salt