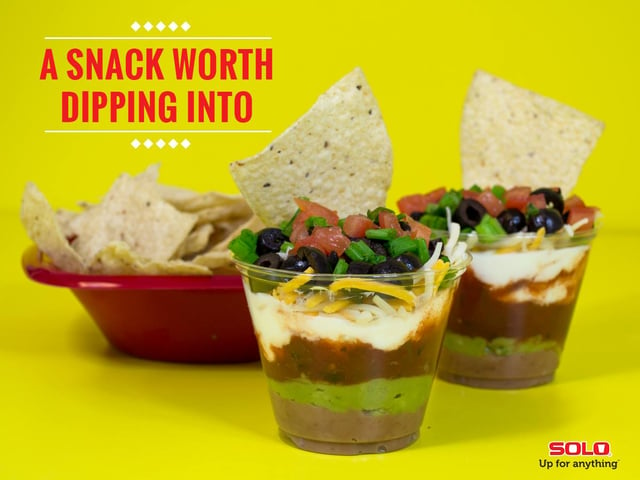 Chips and dip work for every occasion. Tailgating, barbeques, fourth of July picnics. Their only downside is that they can get messy as everyone crowds around the bowls to get their share--and not to mention double dipping! Save your guests and yourself the fuss by making these easy, delicious, and striking 5 layered dip cups for your next SOLObration.
5 Layered Dip To Go:
What you'll need: Solo®'s Clear Plastic Cups, salsa, guacamole, refried beans, sour cream, cheese, scallions, olives, cheese, tomatoes, and tortilla chips.
In each 9 oz S

olo® Clear Plastic Cup s

tart with a layer of refried beans, then add layers of guacamole, salsa, and sour cream.

Top with a sprinkle of cheese, scallions, olives, and tomatoes.

Serve with a side of tortilla chips and enjoy!
Head to Walmart to pick up all the Solo® Products you need to SOLObrate this summer.
Have a SOLObration worth bragging about? Enter our SOLObration Sweepstakes for a chance to WIN a Solobration Sampler!