Guest post by Everything Erica.
Let's be honest, watching football has never been my first choice Sunday activity. In fact, I don't even think it would be in my top 10. However, with marriage comes compromise, so in our house it's not just Sunday, it's FOOTBALL Sunday. After fighting an uphill battle for years, I realized I should just give-in and try my best to have some fun with it.
Since I'm a total hostess at heart, it's actually the perfect opportunity to flex my entertaining skills.
Here are 5 things that I think you need to throw an awesome football Sunday party:
A Good Crew
First things first, grab your crew! Having more people rooting for a game is always a little bit more fun. They say the more the merrier, right?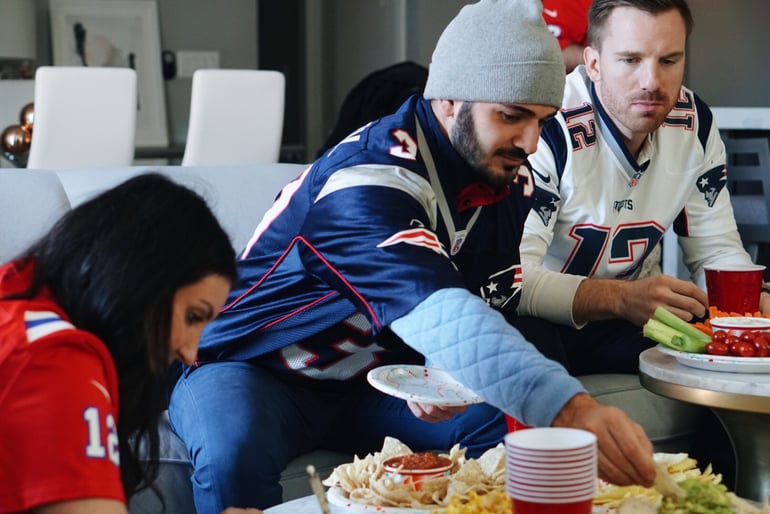 In my opinion, there's nothing like a good rivalry, so if you're up for a little bit of banter, invite fans of both teams. My husband would completely disagree though, so if you aren't a Patriots fan, he doesn't want you at our house during the game, lol.
He even makes me and Elia dress up in the Patriot's gear.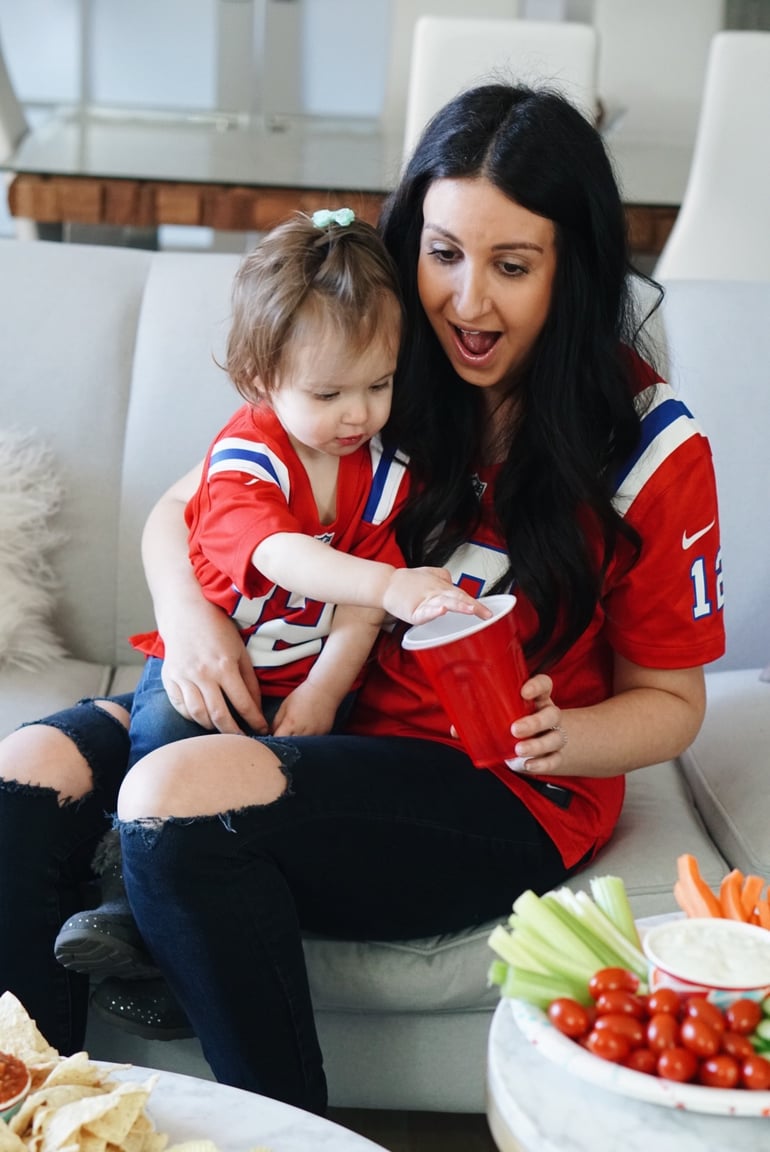 Ample Seating
It's important to make sure you have enough viewing space. It doesn't matter what size your place is, you can make anything work. Heck, I live in a tiny condo in downtown Chicago, so if I can make it work, you can.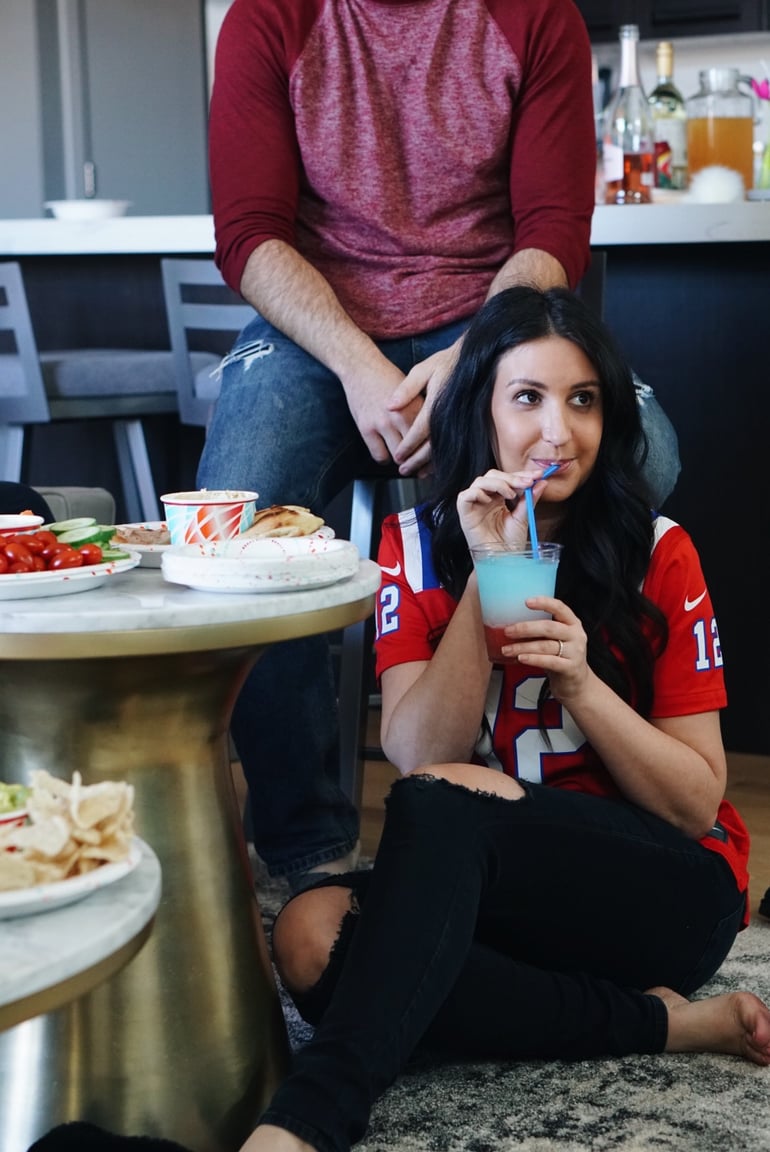 At my house, our couch can only fit about 3 comfortably, so we pull out all the dining table chairs and bar stools. If that's not enough room, we'll grab some extra pillows and blankets and people can camp out on the floor.
A Signature Cocktail
Whenever I'm hosting something, I like to make it look really nice. You'll never find a tacky cooler of beer in my house. While I always have beer available (let's face it, my husband would kill me if I didn't), I always like to come up with some sort of signature cocktail for the game.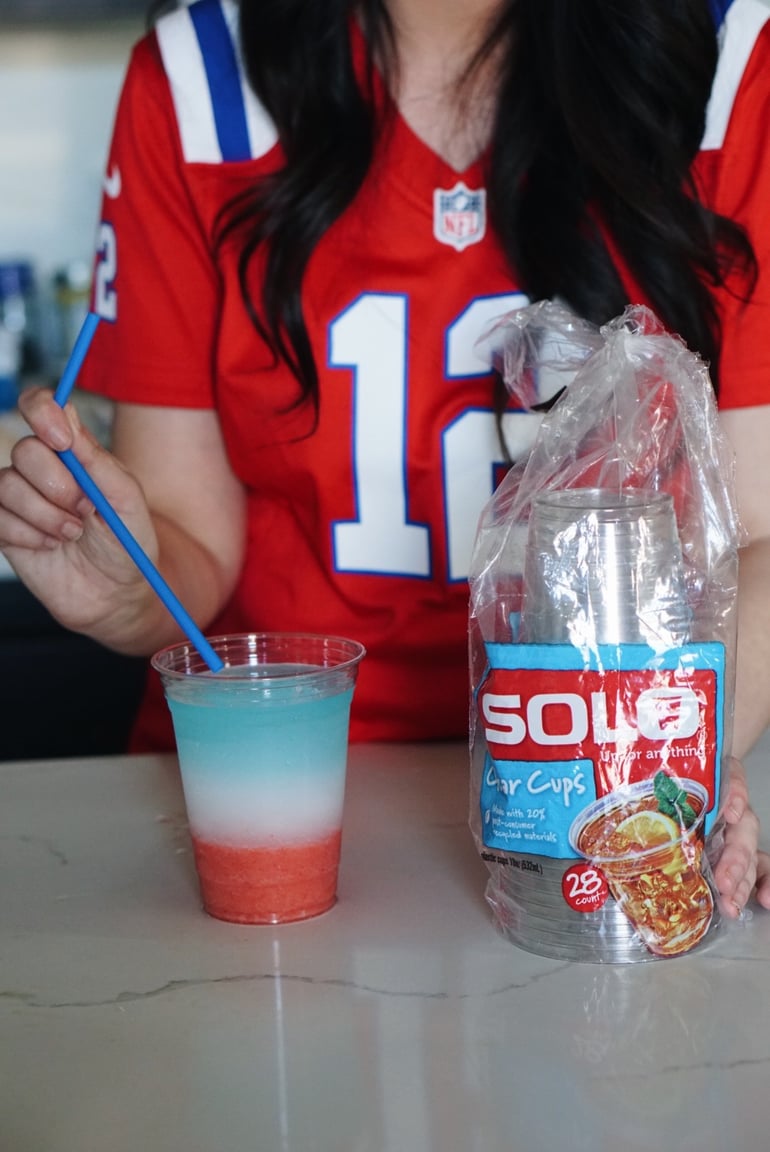 Since my husband is a die-hard Patriot's fan, one of my go-to's is my famous Layered Boston Blue Moon. If you serve it in Solo Clear Cup, you can see all the pretty red, white and blue layers. It's so simple to make too. All you need is vodka, a blue liquor of your choice and cranberry juice. You literally just blend each of the liquids separately with ice and then combine in layers!
A Few Great Bites
When the game is the focus, forget trying to plan a sit-down meal! Come up with a few sharable bites to cover the coffee table and you're set. I'm a big fan of popcorn with truffle salt, chips and guacamole/salsa, wings or whatever else you're craving! It's also not a football Sunday unless we order some pizza. Calories don't count on Sundays, right?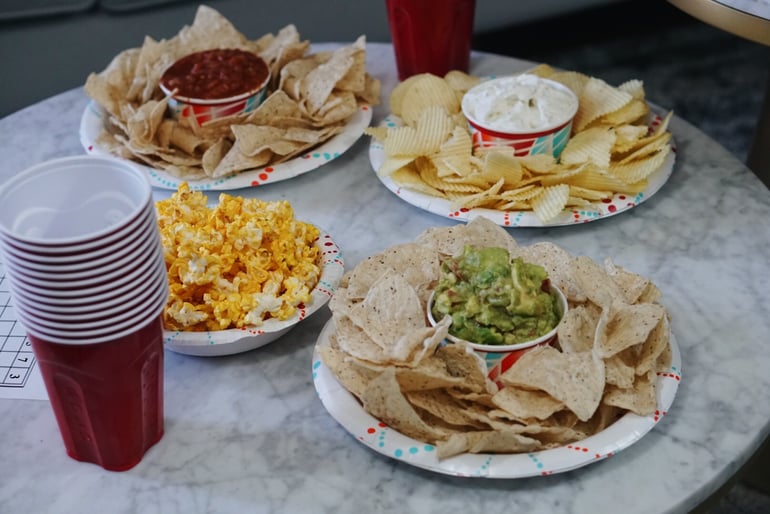 HUGE time saving secret: Use disposable EVERYTHING! Whenever I'm entertaining a crowd, you'll always find me using SOLO plates, cups and bowls.
A Little Friendly Betting
Lastly, take advantage of that fun friendship rivalry and come up with a betting game. It doesn't have to just be for Superbowl!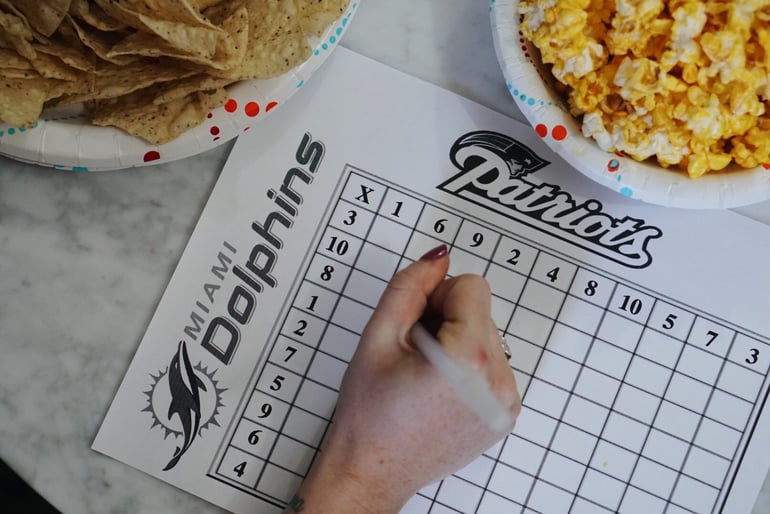 Our go to is always the game, Squares. Basically, you start with a 10X10 grid and assign one team to columns and one to rows. Then, have everyone write their initials in a square until the grid is full then assign numbers 0-9 to each column followed by doing the same for each row. We say it's $1 per square.
A winner will be chosen at the end of the 1st quarter, 2nd quarter, 3rd quarter, and Final Game score. To determine the winner, you look at the last number in each teams' score, and then matching those numbers on the grid and seeing which square intersects those two numbers. An example would be if the Patriots were playing the Dolphins and the score at halftime was Miami Dolphins 13, and Patriots 24. The last number for the Dolphins is 3, and the last number for the Patriots is 4. The square on the grid that has the Dolphins with a number of 3, and Giants score of 4, would be the winner.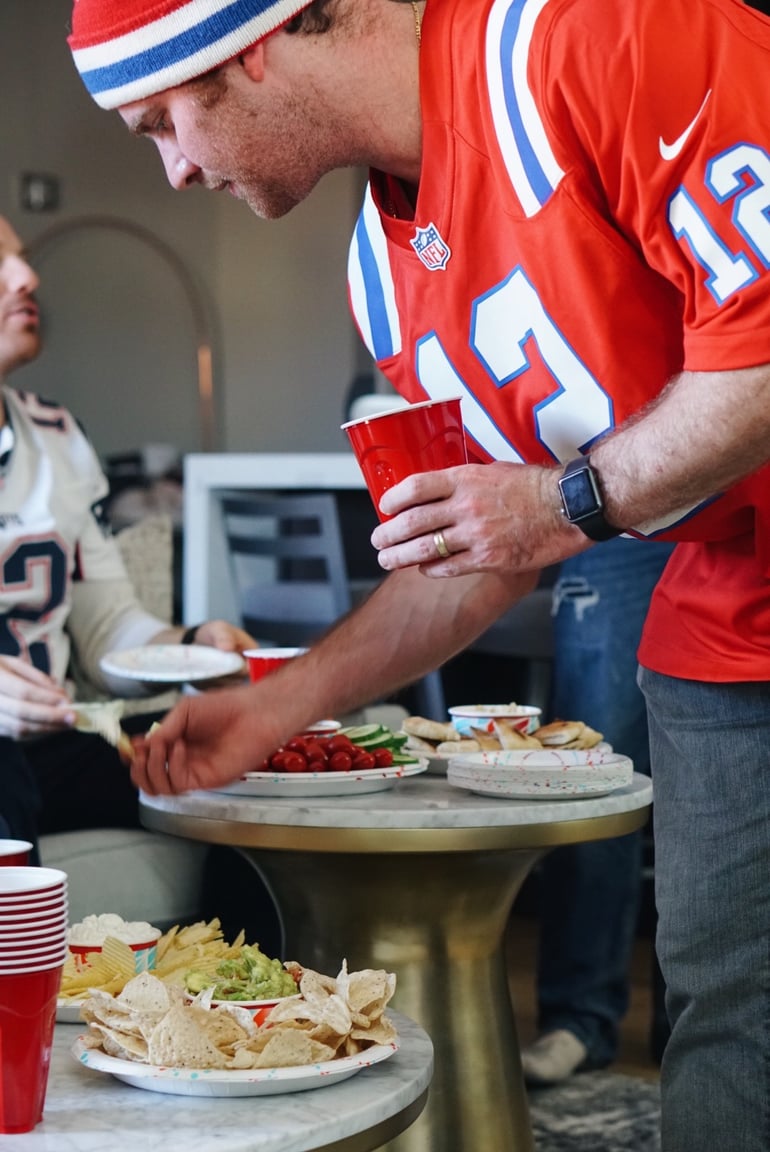 These simple tips will turn your Sunday into more than just watching a football game! It will be SO much fun and super stress-free.