No sand? No problem. These beach scene cookies and pudding cups will be all you need to feel like you're lounging by the surf! Best of all, you only need to 2 ingredients to make them. That's less time preparing, and more time for SOLObrating. It's a win/win! Grab some vanilla pudding, golden colored cookies, a plastic baggie, Solo® Clear 9 oz Plastic Cups, and decorations of your choice and you're ready to go!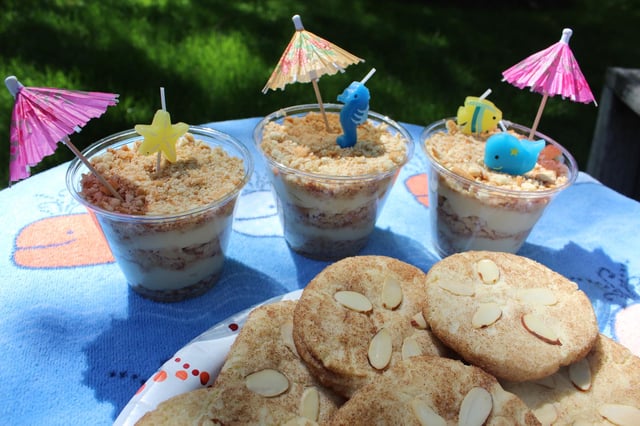 Directions:
Making sure your cookies are free of frosting or other additions, pour your golden colored cookies into a large plastic baggie that seals at the top. Seal the baggie, then smash the cookies. Tip: this is easiest when done with a rolling pin!
Once smashed, sprinkle the bottom layer of your cup with the cookies.
Spread a layer of vanilla pudding on top of the cookies.
Add another layer of cookies.
Add another layer of pudding.
Add a final layer of cookies.
Top with decorations such as a cocktail umbrella. Repeat for the amount of Beach Cups you want to make.
Chill until you're ready to serve!
Looking for more great beach party ideas? Here you go!
Looking to bring the beach to your kitchen? Head to Walmart to pick up all the SOLO® products you need to make it a reality!