Cupcakes bring memories of childhood, birthday parties, and delicious, sugary icing. Most of us have heard the "sandwich trick" when it comes to cupcakes: to get the perfect frosting to cake ratio, you should split the cake portion in half and put one piece on top of the frosting. This way the cake acts as the "bread" and you have the perfect amount of cake and frosting in each bite. We're all for the sandwich trick if that's what you're into, but here at SOLO we love to think up creative and easy ways to enhance your next SOLObration. So we have a new proposal for you to try, and it's layered cupcakes served in a cup.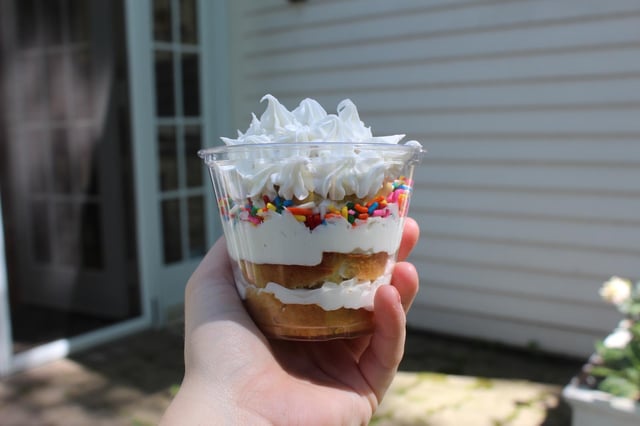 While it may seem complicated, these cupcakes are no harder to make than a traditional cupcake but they look like you spent all afternoon on them! They're sure to impress your guests and taste as yummy as a traditional cupcake, while being more fun to eat. All you'll need is boxed cake mix of your choice, frosting, cupcake liners, sprinkles, and Solo®'s Clear 9 oz Plastic Cups.
How to Make a Layered Cupcake Cup:
Preheat oven and make batter according to your cake mixes instructions.
Place cupcake liners in your muffin tin, then fill with batter.
Bake according to cake mix directions, or until a toothpick stuck into the center of your cupcakes comes out clean.
After letting the cupcakes cool, remove them from their liners and cut each cupcake into thirds.
Put the bottom piece of cupcake into your Solo® Clear Plastic Cup, then layer with frosting.
Repeat for next two layers, making sure the original top of the cupcake is the last layer of cupcake added. Frost as you would any other cupcake, then top with sprinkles.
Voila! Grab a spoon and DIG IN!
Were these cupcakes a total hit at your last get-together? Share your #SOLObration on Instagram or Twitter for a chance to WIN. Buy all of your Solo® Products NOW at Walmart!