Guest post by The Chicago Good Life
Super Bowl is one of my favorite events of the year, but you guessed right, not for the game. But for THE FOOD. Super Bowl food is the best. I took some classic Super Bowl recipes, fun hosting ideas and made them a little bit more kid-friendly. So whether you have a family or a party with kids, there is a little something for everyone to get you ready for the big game!
Setup
I love hosting. It's one of my favorite things to do. But if there are a lot of people, especially with little ones, I need easy ideas for setup and clean up. I decided to minimize the dishes and use Solo Cup Products to make clean up easy and less complicated. They are completely disposable, recyclable and really durable. Once you are done with them, they can also be used for kids to write and color on them. It's a win, win right?
Some fast and easy ideas are a snack bar, pigs in a blanket, tater tot skewers and individual 7 layer dip cups (because nothing says football more than dip).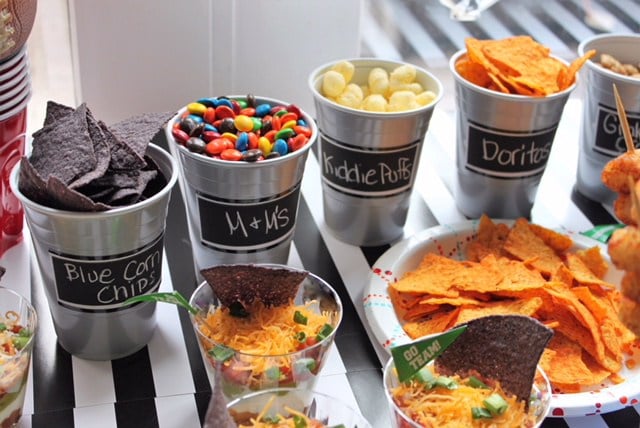 SOLO has write on cups that are perfect to label the snacks. The kids can make their own snack bowls with lids. These bowls are easy for them to hold and whatever they don't finish, the bowls serve as to-go cups. The small, clear cups are the perfect size for the individual 7 layer dip cups. Lastly, the paper plates are the adults for the skewers and other snacks. Don't forget about the red and blue cups for the adult or kid beverages you serve. Plus, they add lots of color to your table.
Snack Bar
The best part of a snack bar is that you can customize it to your guests preferences. Since this is more kid friendly, the options are kid friendly, but even adults would enjoy them (I know I do!)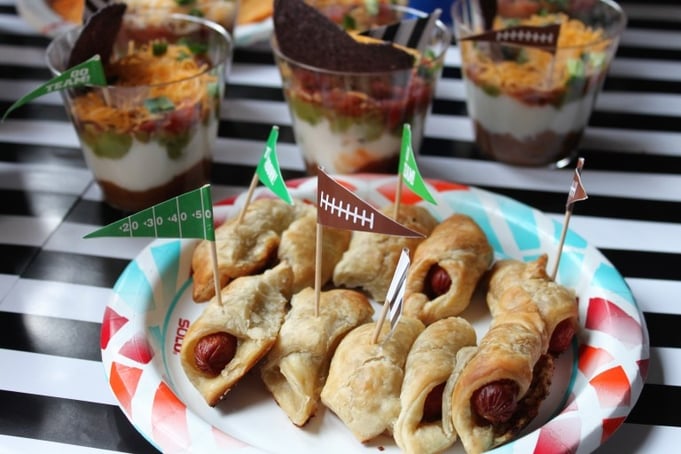 Pigs in a Blanket
This is an appetizer that everyone likes. You can definitely make them with recipes like this or you can buy them frozen, whatever makes your life easier! But either way, they are a great for kids and adults.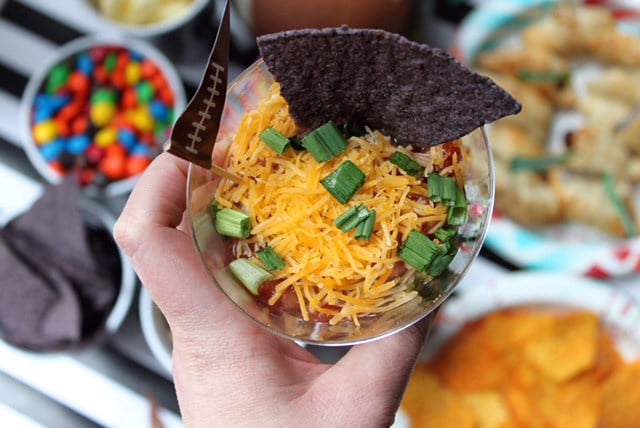 7 Layer Dip
These are perfect for a few reasons. The cups are very sturdy, so they are able to hold a lot without feeling too heavy. They are great size for those small hands and you don't have to worry about any double dipping.
Ingredients:
1

(16 ounce) can refried beans

1

(1 ounce) package taco seasoning

1

cup

guacamole or homemade guacamole

1

(8 ounce) container sour cream

1

cup

chunky salsa

1

cup

shredded cheddar or Mexican blend cheese (I used both!)

2

Roma tomatoes

, diced

1/2

bunch of green onions

, sliced

1

(2.25 ounce) can of sliced olives, drained (

Optional- my son doesn't like olives)

6 (9 ounce) SOLO cup plastic cups

tortilla chips (I like blue corn chips)
Instructions:
In a small bowl mix taco seasoning with refried beans.

Add about 2-2 1/2 tablespoons for each layer

Layer 1: beans and taco seasoning
Layer 2: sour cream
Layer 3: guacamole
Layer 4: pico de gallo
Layer 5: cheese
Layer 6: tomatoes
Layer 7: green onions and olives

Garnish with one tortilla chip. Store in the refrigerator until serving and serve with chips. Makes around 6 individual dips.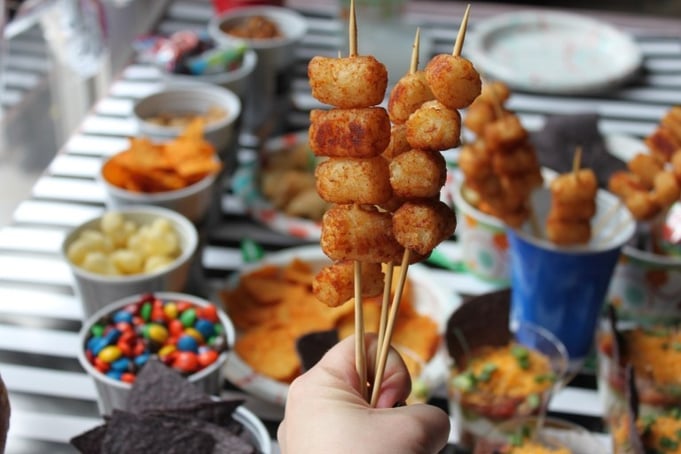 Tater Tot Skewers
These are super easy to make and really fun to eat. You can eat them right off the skewer or add it to your SOLO plate. 15-20 minutes at 425 degrees, let them cool and add 4-5 tots to each skewer. You can add ketchup to the small SOLO cups for dipping.
So if you are inviting friends over to watch the Super Bowl or watching it with your family, enjoy the game, whoever is playing….most importantly, enjoy the food with a no fuss clean up.