Game day is here and you don't want any distractions: just good food, good company, and your team to win. Mac 'n Cheese is the ultimate crowd pleaser and a fan favorite, but it can be a hassle to make and eat while the game is on. Instead of making boxed mac 'n cheese this game day, enjoy these Macaroni Bites. They're easy to make, easier to eat, and delicious as can be.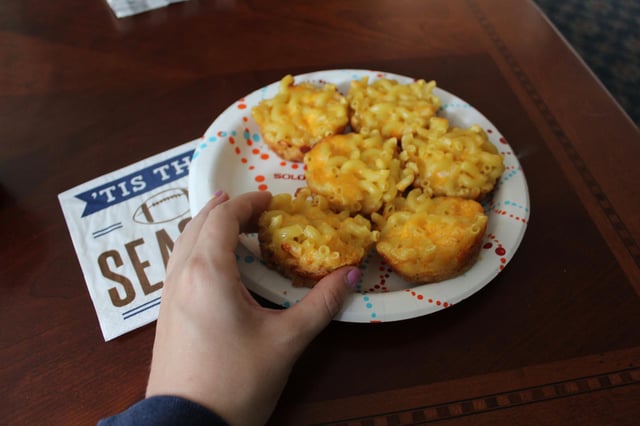 Ingredients:
Macaroni:
1 box elbow macaroni
1 1/4th cup shredded sharp cheddar cheese
1 tbs unsalted butter
1 large egg
1/8th cup sour cream
6 tbs milk
Crust:
1 cup crushed crackers
3 tbs melted butter
1/4th cup shredded sharp cheddar cheese
Directions:
Preheat oven to 375 degrees.
Combine crust ingredients together. Grease the muffin tin, then line the bottom of each with the crust so that it comes up a bit on the sides.
Cook the macaroni noodles until a bit under al dente, strain, then set aside.
Mix cheese, butter, egg, sour cream, and milk together. Pour over noodles and combine, then spoon the noodle mixture on top of each crust.
Bake for 15 minutes, then let sit for at least 10 minutes before removing the Macaroni Bites from the tin. If you don't wait, they'll fall apart!
Once cool, run a knife around the edges and gently remove. Serve on a

the Solo

®

Heavy Duty Paper Plate, and enjoy!
Want more ideas to get the party started? Check out some of our other Fall treats that are perfect for game day here.