Whether it be starting college, moving to a different state, studying abroad, or simply craving a change in scenery, there comes a time where we'll find ourselves or our friends in need of a going away party. Throwing a going away party can be intimidating--there is a lot riding on the idea that this is the last time (at least for awhile) for your guests to eat, drink, and enjoy their time together. With this type of mentality, it's hard not to put a ton of stress on yourself to throw the best party possible. We ask that you take a deep breath, relax, and let go of all that pressure. Solo's here to help you throw the best going away party possible with these 7 tips.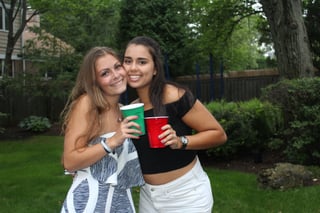 1. Write a guest list
Arguably one of the most important parts of planning a going away party is writing the guest list. It determines so many other aspects of the party: how much food you'll need, how many plates/utensils/cups to pick up, whether your party can be at your home or needs to be held in a larger venue. When writing a guest list, it may be easiest to create categories. Organize your guest list by categories such as family, school friends, work friends, etc. This can help ensure you don't forget anyone!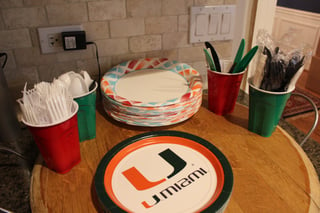 2. Decide on a theme
Having a theme can help keep your party cohesive, and allow you to have an easier time choosing decorations and what food you serve. If your friend is moving to Miami, a beach themed party complete with tropical cocktails will add to the excitement of the move. If your child is going off to college, decorate the party with the colors of their future school!
3. Cook (or order!) more than enough food
There's nothing more stressful than worrying whether everyone is fed. Avoid this by cooking more food than you anticipate needing--even if you have leftovers, you can enjoy them the next few days, or send them home with guests. Food such as fajitas, tacos, or other self-serve meals are best for large parties. Serve them buffet style!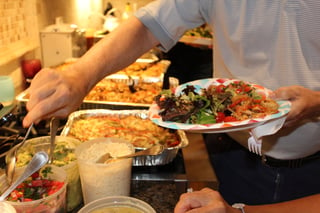 4. Don't stress about what you don't have to
Make clean up simple by having garbage and recycling bins set up before guests arrive, having a large supply of napkins on hand, and using disposable dishware and utensils. We recommend buying different colored Solo® Squared Cups to ensure everyone remembers which drink is theirs, and using Solo® Heavy Duty Paper Plates and bowls for food, so that you don't have to waste a second doing dishes and miss out on any of the fun.
5. Have activities for your guests
While mingling is great, it's helpful to have a few activities that your guests can entertain themselves with. A photo booth is a great and easy way to add a ton of fun to your party, while leaving everyone with mementos of what a great time they had! There are plenty of photo booths that can be rented by the hour for a very reasonable price, but if you don't have the ability to rent one, they're easy to create at home. Simply clear an area against a wall, and put up a white or black sheet as your back drop. Have props on hand such as silly hats, glasses, fake mustaches, etc. and then let your guests go wild! If you don't have a camera and a tripod, other friends can act as photographers for the group of friends in the "booth."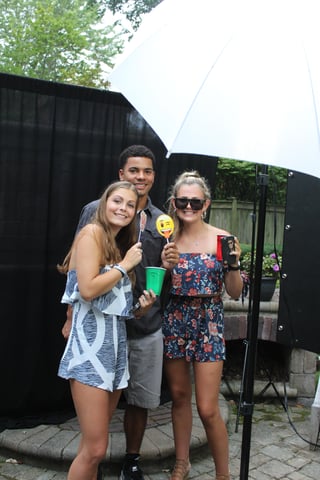 6. Designate roles
There's only so much one person can do at one time. To avoid feeling overwhelmed, designate roles. Have one friend or family greet guests, one act as a DJ, and put another in charge of food. You can easily take shifts so that no person feels like they're "working" the entire party, but having someone at least aware of an aspect of the party, like music or food, can ease a lot of stress.
7. Make happy hour happy for everyone
If your party is comprised of purely adults who drink, you can get away with serving only cocktails. However, if you have friends who choose not to partake in a traditional happy hour, or are throwing a party for your child going off to college, you're going to need some non alcoholic drinks that are still a blast. Mocktails are a great way to sip on something yummy and keep happy hour happy, without the alcohol. We recommend virgin piña coladas: they're an easy to make, delicious drink for all ages!
With these tips in mind, remember that no matter who shows up, no matter the minor bumps that may occur, your party is going to be one to remember. Whoever is moving will appreciate the thought you've put into showing them a great last night, and that is more than enough to call the party a success!