Put some Irish shake into your St. Patrick's Day SOLObration with this Irish Float recipe. Trust us, this is an Irish essential for your SOLObration! Made specifically for leprechauns who love good laughs and limerick, we promise this delicious treat will have your guests jigging all party long.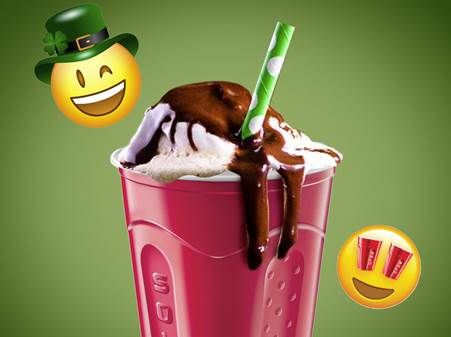 Irish Float Stout
Prep time = :10, Serving Size= 10
1 Gallon of Vanilla Ice Cream
Irish Cream - Bailey's, etc
Whiskey
Irish Stout (Guiness, O-Hara's, etc) We suggest 2 six-packs
How To Make:
Using a large mixing bowl add vanilla ice cream, 1 oz. of Whiskey, and 1 oz. of Irish Cream into the bowl. Mix items.
Grab 10, 9 oz. Solo® Plastic Cold Cup

s

, and add 1-2 scoops of your ice cream mix into the cups. Place cups on a cookie tray (in order to hold all of the cups) and then freeze.
When ready to serve, squeeze the frozen ice cream cups into 10, 18 oz. Solo® Squared® cup

s

. Each 9 oz. cup will be the perfect amount of ice cream for the 18 oz. cups.
Top off the Solo® Squared® cups with 2-4 ounces of Irish Stout.
Add a green straw and do an Irish boogey! Voilà your St. Paddy's Day float is complete!
Did you try out this recipe? Share your #SOLObration on Instagram or Twitter for a chance to WIN. Buy Solo® products NOW at Walmart!
Happy St. Paddy's Day to all of our Solo® fans!