Caddyshack is a cult favorite, seemingly gaining popularity with each passing year. July 25th is the 37th anniversary of its release, and here at SOLO, we felt it deserved a SOLObration. Rather than just let Caddyshack be the star, we're shifting our focus to Bill Murray. Because let's face it; what would the movie have been without him? Let's celebrate all of Murray's shenanigans--within his films and his life, by cozying up to watch one of his movies with a corresponding cocktail in hand. We promise the drinks will be just as good as the movies.
...who are we kidding? We can't live up to Bill Murray. But we swear our drinks are good. Don't believe us? You'll have to try one for yourself.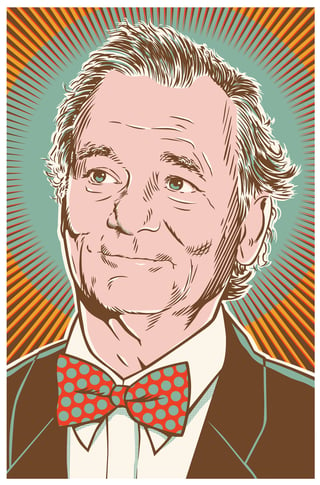 Caddyshack Mudslide
Who could forget the infamous candy bar in the pool scene in Caddyshack? It's one of the most recognized scenes from the movie, and undoubtedly one of the most hilarious--especially when Bill Murray takes a big bite of the "doodie" after draining the pool. While you're watching the movie with your pals at your viewing party, sip on a delicious mudslide cocktail that's reminiscent of the notable scene.
What You'll Need:
3 scoops vanilla ice cream
Crushed ice
1 oz vanilla vodka
1.5 oz Irish cream
1 oz coffee liqueur
Whipped cream
Chocolate sauce

Solo® 18 oz Clear Plastic Cups
Directions:
Drizzle the inside of your cup with chocolate sauce, making a design that'll show even after your drink is poured!
In a blender, place a handful of ice, 3 scoops of ice cream, vodka, Irish cream, and coffee liqueur. Blend until ice is fully crushed.
Pour drink into your Solo

® Cup, then spray whipped cream on top and enjoy!
Lost In Translation Mint Julep
In Lost In Translation, Bill Murray's character Bob Harris is flown to Japan to shoot a whiskey commercial, so of course a drink featuring whiskey is imperative for a successful viewing party. We recommend a Mint Julep: it is whiskey heavy with a twist, which is indicative of Lost In Translation as a whole. The movie is layered and intricate, just like this drink.
What You'll Need:
Mint leaves
2.5 oz of whiskey
1.5 teaspoons of sugar
Seltzer water
Ice

Solo

®

Squared Plastic Cups
Directions:
Place around 10-15 mint leaves (depending on size) at the bottom of your

Solo

®

cup, along with sugar. Muddle together until the leaves begin to break down.

Fill cup halfway with ice (crushed or whatever your preference).

Add whiskey, then top with seltzer and enjoy.
Rushmore Campanie Cocktail
In Wes Anderson's Rushmore, main character Max Fischer and Herman Blume (played by Bill Murray) have an eccentric love-hate relationship. In one of the more climactic scenes in the movie, Max looks at Herman and says "I saved Latin. What did you ever do?" In another infamous scene, Max downs a large champagne cocktail. So, it's only fitting to call this drink the Campanie Cocktail, 'campanie' being 'champagne' in Latin.
What You'll Need:
Sugar cubes
Champagne
Bitters
Lemon twist

Solo® 18 oz Clear Plastic Cups
Directions:
Soak 1 sugar cube in bitters, then place in a

Solo

®

cup.

Fill cup with champagne.

Top with a lemon twist or substitute with lemon zest.
The Life Aquatic Rum Cannonball
In the movie The Life Aquatic by quirky director Wes Anderson,the main character Steve Zissou (played by Bill Murray) says that a certain bartender made him "the best rum cannonball [he'd] ever tasted." Fans of the movie were drawn to the drink, and brought it from fiction to reality. Sip this cocktail while watching and you'll be transported into the world of The Life Aquatic.
What You'll Need:
2 oz dark rum

1 oz light rum

2 oz pineapple juice

1 oz pomegranate juice

2 oz ginger ale

1/2 oz grenadine

Pineapple

Cherries
Directions:
Add ingredients through grenadine into a Solo® cup with ice.
Garnish with a cherry and a few slices of pineapple.
Did your favorite cocktail match up with your favorite movie on this list? Did you mix and match, or have a movie-marathon? Share your movie SOLObration with us for a chance to win!
Bill Murray artwork courtesy of RedRobotCreative.