St. Patrick's Day can bring out the Irish in all of us, even if we don't attain Irish descent. That's right, when March 17th rolls around, we can wear a "Kiss Me I'm Irish" shirt if we want to! We're here to show you how you can effortlessly SOLObrate your green occasion when you only have one hour of prep time—No Luck Needed!
Gather your "front yard friends" and the kids in the neighborhood, and whip up these lucky recipes to show em that you're the craftiest leprechaun in town.
First things first, as with all parties where you are serving alcohol, don't forget to use different colored cups for your lil leprechauns, or have markers on hand to customize the cups. This is especially essential when the adult drinks are festive. Most importantly, drink responsibly and never drink and drive.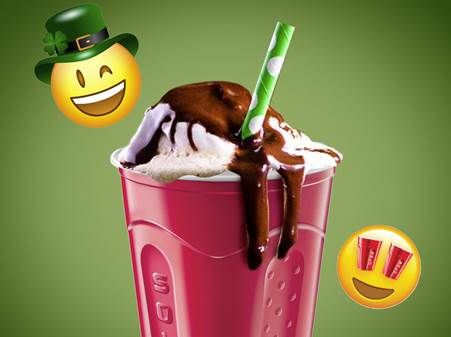 Irish Stout Float
Prep time = :10, Serving Size= 101 pack of 9 oz. Solo® Plastic Cold Cups
How To Make: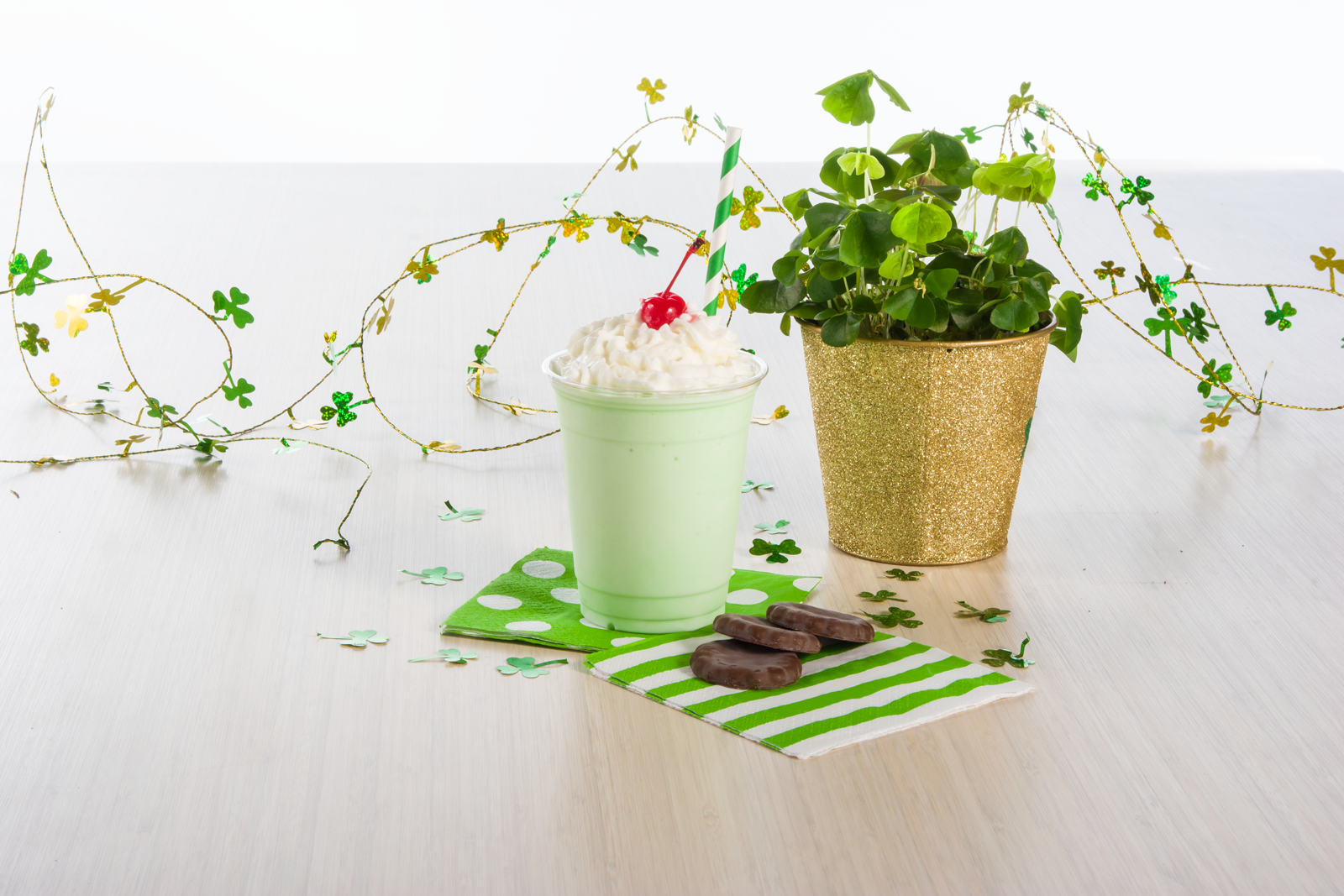 "Good Girl" St. Pat's Shake
This alcohol-free holiday recipe will keep you, and the kids, out of trouble.... maybe.
Prep time = :10
Serving Size= 10
This "good girl" version is a great twist to the classic McD's seasonal shake and will give you all of the mint vibes you yearn for this time of year!
How To Make:
Grab a large bowl, and add one scoop of ice cream and 3 cups of whole milk. Mix items.
Add 1-2 teaspoons of peppermint, and add a tad of Whiskey if you wish. (Remember to put this delicious drink into a different colored glass so you will NOT confuse your drink with the lil leprechans attending). Mix items again.
Add 10 drops of green food coloring. Give one last good mix.
Refrigerate until ready to serve.
When serving, pour shake mix into 18 oz. Plastic Cold Cups.
Top off cups with whip cream, sprinkles, cheeries, and a Thin Mint cookie to complete your yummy shake!
Prefer a boozy version? If you're 21 or over, there is no sweeter way to get your GREEN on this holiday. Just follow the directions above, adding 1-2 ounces of Irish Cream.
Enjoy!!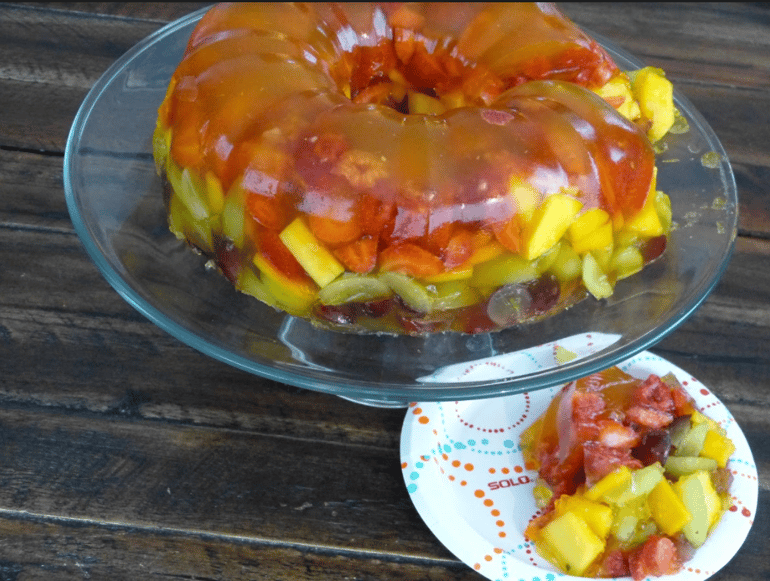 Glimmering Gelatin Rainbow "Salad"
Serving Size = 12, Prep time = :20
Enjoy this fruity dessert that you can eat on the go! Note: We've adapted our recipe after being inspired by MomsDish.com, and it is a great project to do with kids.
How To Make:
Using a bunt pan, layer in all of the fruit in rainbow formation.
Prepare gelatin as directed, and place in fridge for 3+ hours to ensure that it fully forms.
To serve, overturn on a cake plate, wait for 5 minutes. If gelatin doesn't separate from the pan, you may "encourage" it with a knife.

Serve on

Solo® Heavy Duty Paper Plates

or

Solo® Snack Bowls. Remember, perfection is not important, TASTE is important. Smile and enjoy!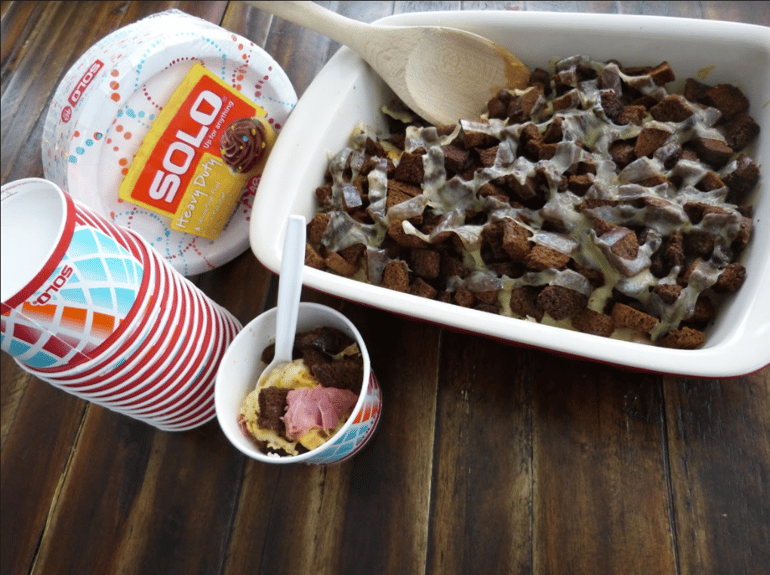 Cheesy Rueben in a Cup
Serving Size = 6, Prep time = :20
A casserole to toast your Irish blessing. Gather 'round the table and feast!
Note: This loved dish comes from About.com.
How To Make:
Grease a 9-by-13-by-2-inch baking pan.
Heat the oven to 350 F (180 C/Gas 4).
Layer the corned beef over the bottom of the prepared baking dish and then dot with the dressing. Spread the sauerkraut over top and then sprinkle with the Swiss cheese.
In a bowl, toss the crumbled rye bread with the melted butter. Sprinkle the bread crumbs over the sauerkraut layer. Bake in the preheated oven for about 30 minutes, or until hot and bubbly and the crumbs are lightly browned.
Serve on Solo® Heavy Duty Paper Plates or Solo® Snack Bowls.
Enjoy these ideas? Share your #SOLObration on Instagram or Twitter for a chance to WIN. Buy all of your Solo® Products NOW at Walmart!
Happy St. Paddy's Day to all of our #SOLOCup fans!
Like the SOLO products featured here? Check out our NEW designs rolling into stores this spring!