There's something particularly heartwarming about hanging a handmade ornament on your Christmas tree. Store bought ornaments are ornate and beautiful, but nothing can compare to having an ornament that your child made at school, or that you made together, that brings you back to that time in their life. It's special in a way a store bought ornament isn't, even if it may be less traditionally beautiful. It is said that beauty is in the eye of the beholder, and we think things that bring families together are pretty beautiful. In that case, these ornaments must be the fairest of them all!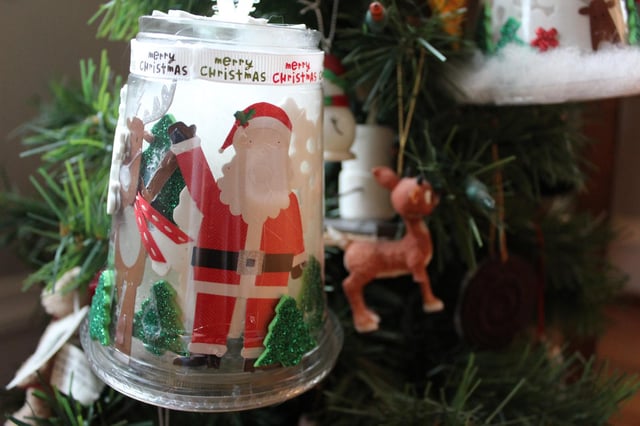 You'll need Solo® Clear Cups, lids, and decorations of your choice! We used sparkly foam Christmas trees, "Merry Christmas" ribbon, Rudolph and Santa Clause paper figurines, foam snowflakes, stuffing (to act as "snow"), and a hot glue gun. We arranged a scene inside the cup, gluing the Christmas themed items to the sides, and then glued the lid onto the cup to ensure it wouldn't come loose. A ribbon was then tied into a loop and glued to the top of the cup so that the cup could act as an ornament.
If you don't have Christmas items on hand, you can easily transform your ornament into a sort of 3d picture frame! Print a photo (or photos!) of your choice, then glue it to a piece of cardboard. This works best when there is a photo on both sides of the cardboard, so that both sides of the ornament display a photo. Glue the bottom edge of the cardboard to the lid, and add any other decorations you want, then place the cup on top the lid. Add a ribbon to the top, and your ornament is ready to go!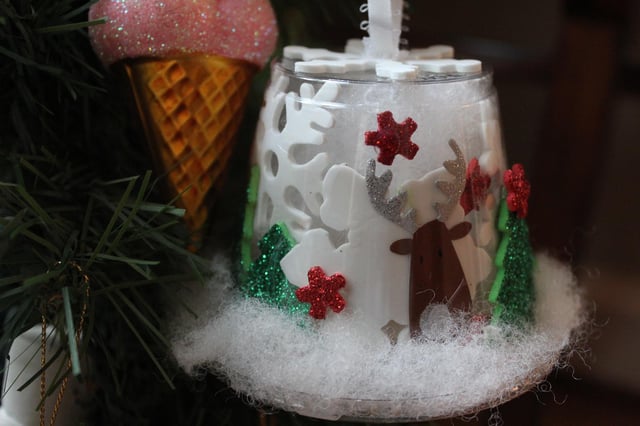 Is your Christmas tree covered in SOLOglobes? We'd love to see!