This homemade disc-drop game will quickly become one of your favorite party traditions. Learn how to make it below. Who knows, you may just have your first homemade family heirloom on your hands!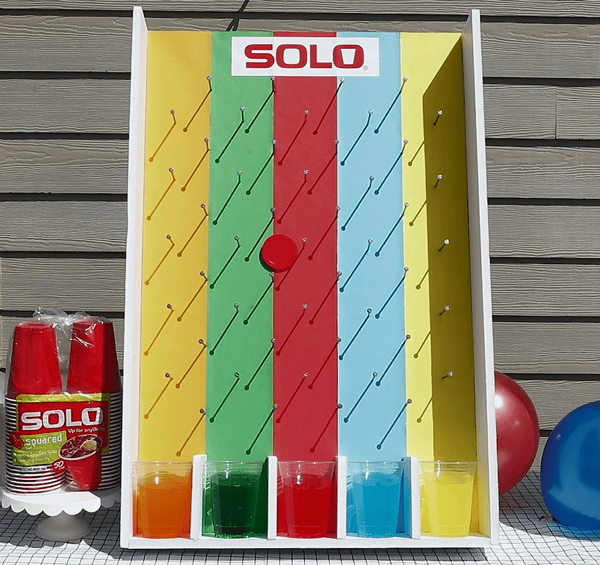 What you'll need to make YOUR own soda scrambler:
One piece of plywood (2 x 3 ft.)
Yard stick
Nails
Hammer
5 pieces of poster board (different colors)
Glue
SOLO Squared or Clear Cups
Air Hockey Puck
One piece of ½ in. foam board (2 x 3 ft.)
Step 1
Glue the poster board pieces to the plywood to create 5 different colored 'lanes.' They should each be about 4 in. wide.
Step 2
Make your first row of nails by hammering one in at the seam where each of the colors meet across the board. Use the yard stick to ensure a straight line.
Step 3
For the next row, set each of the nails in the middle of each 'lane.' Use the yard stick to ensure exact spacing.
Step 4
Repeat steps 2 and 3 until you are six or so inches from the top.
Step 5
Cut sections of the foam board to add as the sides and spacers for the cups. Glue them in place and your board is ready!
Step 6
Fill 5 cups with different colors of soda and you're ready to play!
Looking for other great DIY projects? Check out our SOLO Mable Run post!