The game is almost at an end. Swords are storming. Fire and ice are colliding. Dragons are dragon-ing. And we are watching.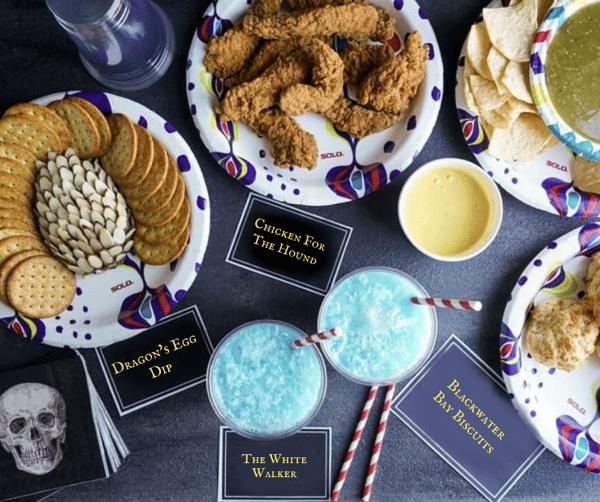 Keep your watch party as exciting as a resurrected ice dragon with a few ideas from us and our partner bloggers. We even have free printables available at the end of this post so you can label your set-up with ease.

Drinks
The White Walker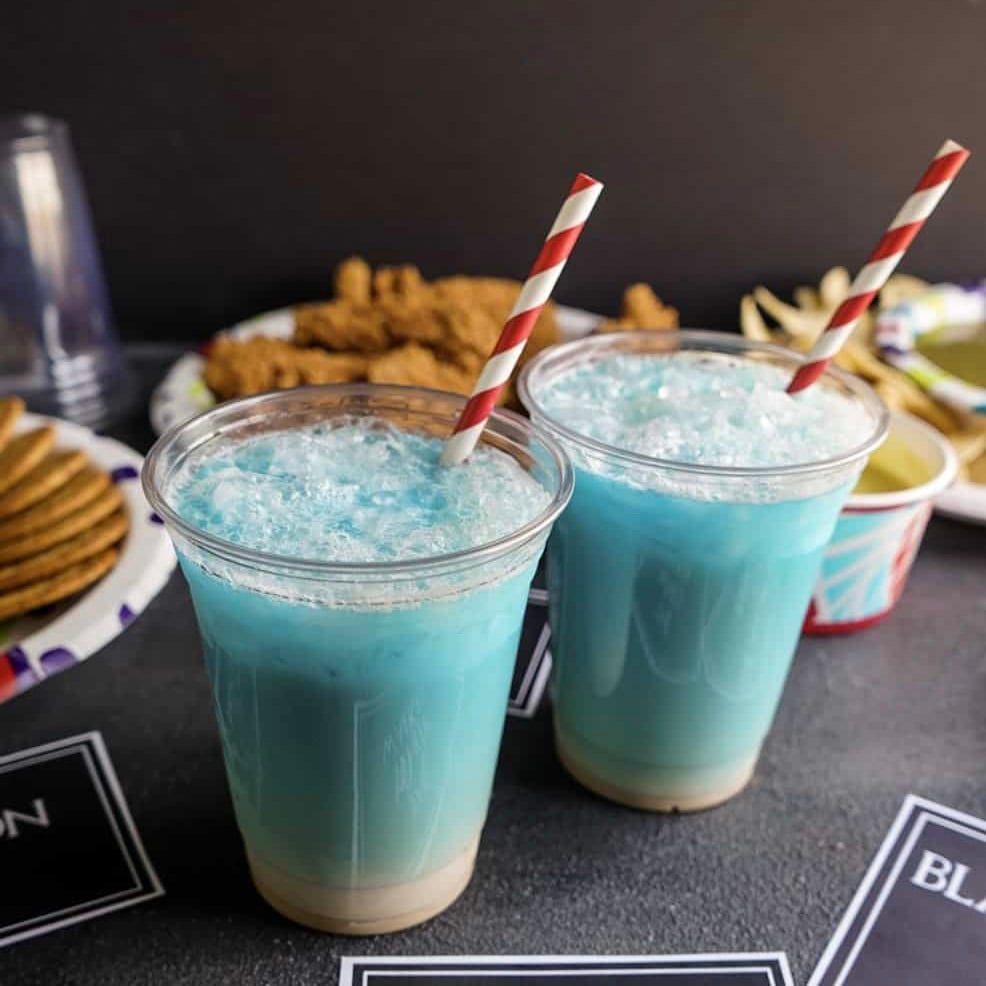 We've seen a lot of different versions of this drink bouncing around. This is our favorite. The bright blue paired with the white feels like icy perfection!
Ingredients
1 oz White Chocolate Liquor
1 oz Vodka
5 oz Vanilla Crème Soda
½ oz Blue Caracao
Ice. Garnish w/ a dash of powdered sugar
Iron Islands Iced Tea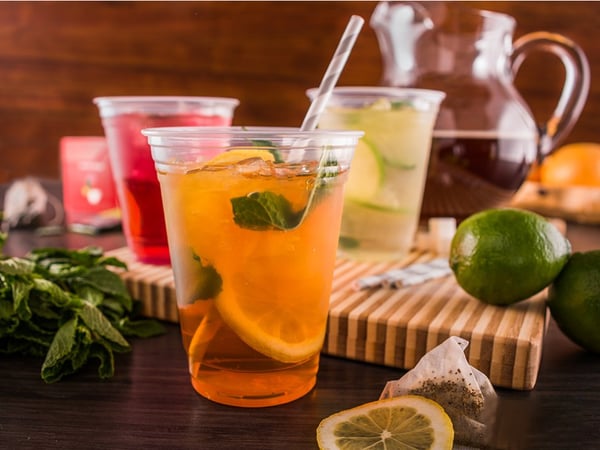 Ironborn or not, everyone can appreciate a relaxing afternoon on the Sunset Sea when sipping an Iron Islands Iced Tea. This twist on the traditional Long Island Iced Tea adds a bit of the extra grit that the Iron Islands are known for.
Ingredients
½ oz Gin
½ oz Rum (Kraken would be a good choice, the Kraken is the Sigil of House Greyjoy after all)
½ oz Tequila
½ oz Bourbon
1 ½ oz Sour Mix
½ oz Triple Sec
½ oz Club Soda
Ice. Garnish w/ Orange Slice
TargaryGin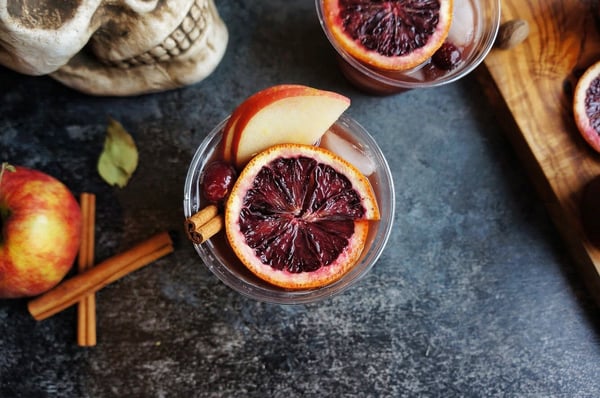 With a name like this it'd better bring the fire. A powerful, spicy drink seemed like the only fitting choice for a house of dragon riders.
Ingredients
1 oz Gin
½ oz Cinnamon Whisky (Fireball might be a good choice because, well, you know, dragons)
½ oz Cinnamon Schnapps
½ oz Sweet Vermouth
2 ½ oz Vanilla Crème Soda
Ice. Garnish w/ Apple and Blood Orange Slices
---
Appetizers
Dragon's Egg Dip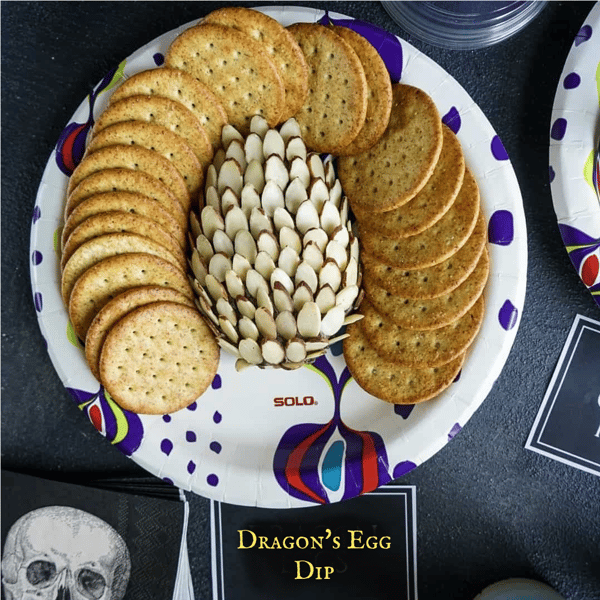 Contributed by Nicole Triebe of Windy City Dinner Fairy
To start off the party right, you can make this Dragon's Egg Dip! Shape a cheese ball into a large egg in the middle of a Solo 10″ paper plate. Place sliced almonds in rows (starting at the top of the cheese egg and moving down) and surround it with crackers. Even the mother of the dragons would be proud of this plate!
Chicken For The Hound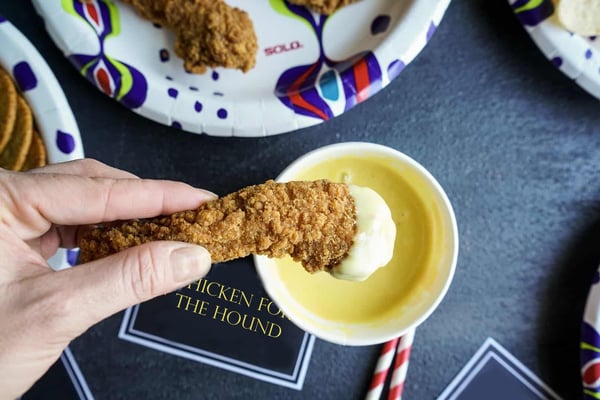 Contributed by Nicole Triebe of Windy City Dinner Fairy
Inspired by The Hound's tavern meal of choice, these chicken fingers served with homemade honey mustard sauce will satisfy even the hungriest dragon! And for those who love sauces this easy, homemade honey mustard is at the top of the list. It's a perfect complement to any crispy chicken finger!
To make the homemade honey mustard sauce, combine the following in a Solo paper snack bowl:
Ingredients
3/4 cup real mayo
1 tbl yellow mustard
3 tbl honey
Whisk it up and serve it with your favorite chicken fingers!
---
More Fun Options
Looking for other turns-of-phrase for your Game of Thrones Watch Party? Here are a few more we like:
A Dance With Dragonfruit
The Night's Scotch
The Three Rye Raven
The Narrow Tea
The Ham of The King
Wildfire Salsa
---
Watch Party Printables
Sheet #1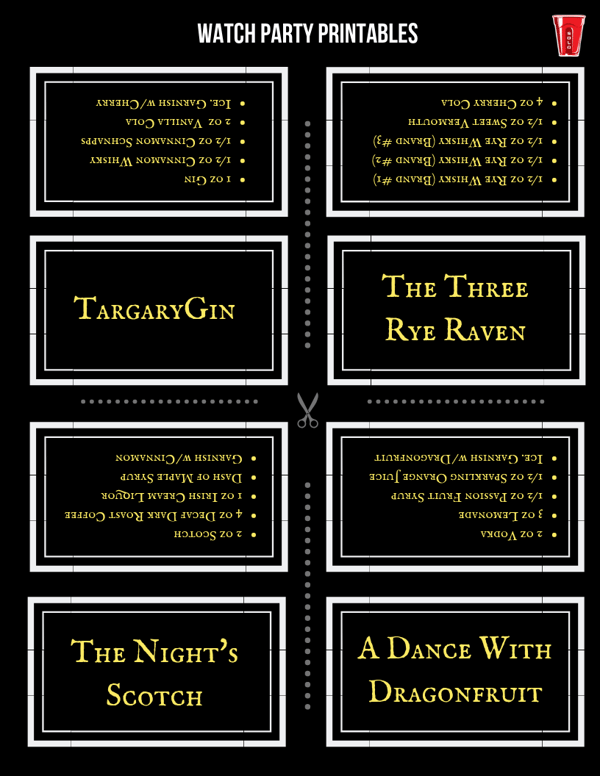 Sheet #2