What could be better than a ripe peach in the summertime? Hint: a ripe peach paired with other stone fruit in a delicious white sangria enjoyed in a SOLO® cup. That's what.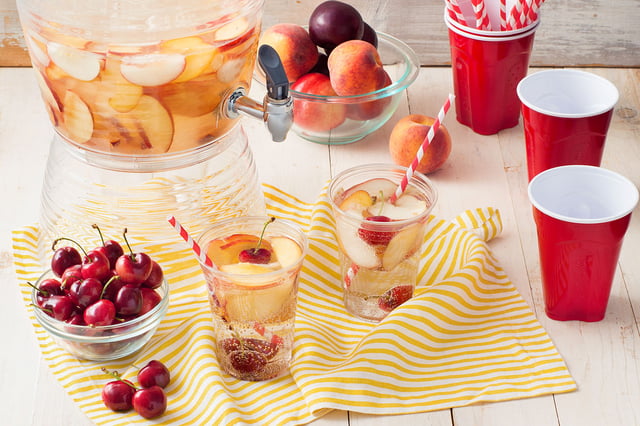 White Sangria with Stone Fruit
Prep Time: 15 minutes Cook Time: 0 minutes Makes: 8 servings
Ingredients:
1 peach, thinly sliced
1 nectarine, thinly sliced
1 plum, thinly sliced
1/4 cup (60 mL) granulated sugar
1/4 cup (60 mL) brandy
1/3 cup (75 mL) peach schnapps
3 tbsp (45 mL) lemon juice
3 tbsp (45 mL) lime juice
2 bottles (each 750 mL) chilled sparkling white wine
Ice cubes
8 fresh cherries, split and pitted (optional), for garnish
Directions:
Toss peach, nectarine and plum slices with sugar and brandy; let stand for 10 minutes. Stir in peach schnapps, lemon juice and lime juice until combined.
Pour in sparkling white wine. Fill 8 (10 oz) Solo Cups with ice; add sangria. Garnish with cherries (if using).
Tips:
For a virgin cocktail, omit brandy. Substitute 1/2 cup (125 mL) peach juice for peach schnapps. Increase lemon and lime juice to 1/4 cup (60 mL) each. Substitute 2 cups (500 mL) white grape juice and 4 cups (1 L) sparkling water for the sparking white wine.
Check out these other perfect summer party drinks.
Looking to sip this sangria at your next happy hour? Head to Walmart to pick up all the SOLO® products you need to make it a reality!