These Cinnamon Apple Crescent Rolls have all the goodness of apple pie, with less than half the hassle. The crust is flaky on the outside, moist on the inside, with the snap of a crisp apple in each bite. Add in the cinnamon sugar, and we're hooked--and you're about to be too.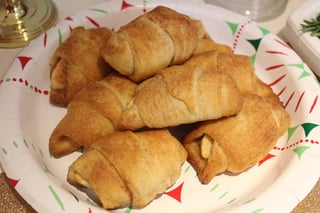 Ingredients:
1 can frozen crescent rolls
2 Granny Smith apples, sliced
5 tbs melted butter
1/2 cup sugar
2 tbs cinnamon
Directions:
Preheat oven to 375 degrees.
Thaw and unroll the crescent rolls, separating each triangle.
Brush each triangle with melted butter, and then sprinkle with cinnamon and sugar.
Roll an apple slice into each triangle, then brush the top with more butter and sprinkle with more cinnamon and sugar.
Place in the oven on a greased baking sheet. Bake for 13 minutes, or until golden.
Remove from the oven and let cool. When ready to eat, serve on a

Solo

®

Heavy Duty Paper Plate. We recommend enjoying it with a side of vanilla ice cream!
Looking for other festive treats to include at your next holiday party? Check out our 'Very Merry Holiday Party Guide' here.