Our dogs are our best friends. They're by our sides during the good, the bad, and the downright ugly, making everyday better by simply wagging their tails, snuggling into our sides, and giving us all the dog kisses they desire. We make birthdays a priority for the important people in our lives, marking our friends and families special days down on our calendars months in advance and meticulously planning parties and presents. With so much planning and thought going into our human BFF's birthdays, doesn't it only make sense to extend that courtesy to our pups? We sure think so. Throwing a doggie birthday doesn't have to be tedious or daunting--in fact, it can be a total blast for both you and your pooch! & SOLO's got all the tips, recipes, and tricks you'll need to make your party a success.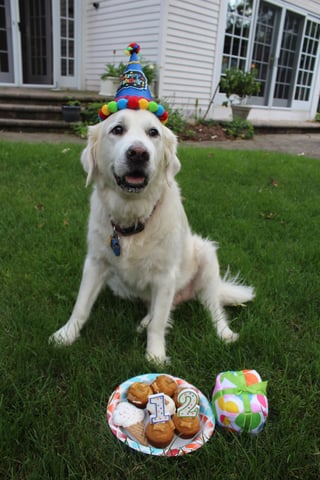 First things first: create a guest list.
Does your dog have pals from the dog park that you want to invite over? A BFF from doggie daycare? Or is this purely a familial affair? Once you get a handle on how many dogs (and people!) are coming to your party, you'll know how much, or little, you need to plan.
Once you have your guest list in place, you can move on to what is most important: Food.
It's important to keep your guests happy, and what easier way to do that than to feed them good food? For your human guests an quick to prepare Cherry Tomato, Asparagus, and Avocado Salad is sure to hit the spot, and a Dessert Buffet is the perfect way to satisfy their sweet tooth. As for dogs, a summertime birthday deserves a cool treat like these frozen Pumpkin Banana Dog Treats. If you're looking for a more traditional birthday treat, Peanut Butter and Honey Pupcakes are easy to whip up!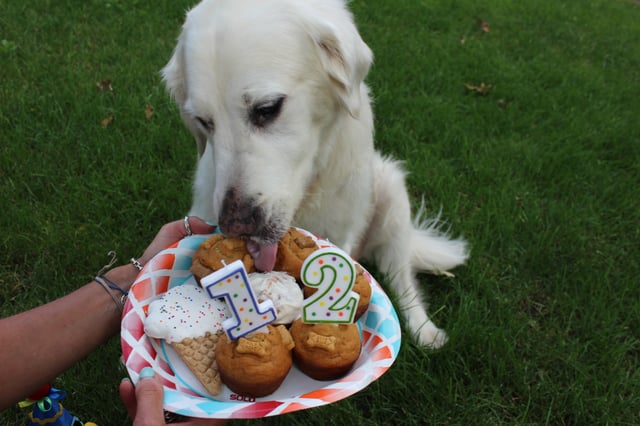 What You'll Need To Make 6 Pupcakes:
7/8ths cup flour
1/2 tsp baking powder
1/2 tsp baking soda
1/2 cup skim milk
1/2 cup all natural peanut butter (make sure this doesn't have any artificial sweeteners in it! Artificial sweeteners are toxic to dogs.)
1/4th cup honey
1/8th cup vegetable oil
1 egg
For the Frosting:
3 oz cream cheese
1 tsp plain yogurt
1 tsp honey
1 tsp flour
Directions:
Preheat oven to 350 degrees.
Combine all Pupcake ingredients in a mixing bowl, and thoroughly combine.
Grease a muffin tin, and fill the cups so they're 3/4ths full. Place in the oven for 18 minutes, or until you can stick a fork into a Pupcake and have it come out clean.
While the Pupcakes are cooking, combine frosting ingredients together and mix until creamy. Remember to only frost your Pupcakes once they have fully cooled, or else the frosting will melt off!
Serve on a Solo® Heavy Duty Paper Plate and your pup is ready to enjoy (because let's face it--who wants their dog eating off of and licking a plate they eat dinner on?). Optional:

top the Pupcakes with a miniature bone!
Finally, get decorating!
What's a party without some flare? Don't be afraid to purchase a few balloons, candles for your Pupcakes (but be sure not to light them!), and a party hat if your dog will stand to wear it. These will make your party not only feel more festive and exciting, but make your pictures just that much cuter. Don't believe us? Look at this pup in a party hat!!!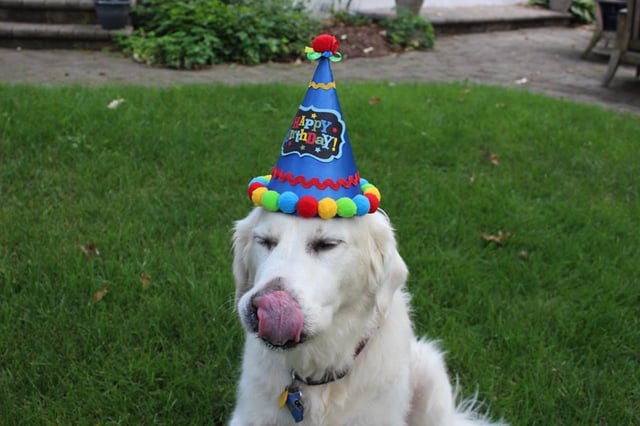 And remember...it isn't a birthday party without a gift for the birthday pup! Treat your dog to a new toy (we got one shaped as a present!). They're sure to appreciate it and thank you by tearing it apart in no time ;)