This Halloween themed treat is perfect for any holiday party you're planning to throw! They're not only delicious, but fit the Halloween theme to a tee. Did we mention they only take 10 minutes to make? Well, that's for sure a bonus, too!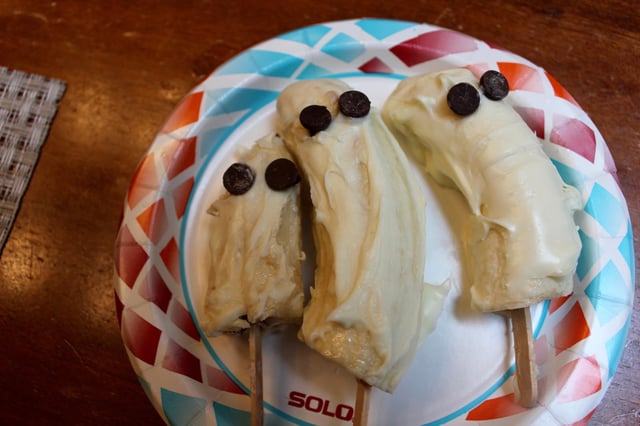 Ingredients:
Popsicle sticks
Bananas
White chocolate chips
Milk chocolate chips
Directions:
Remove bananas from peels. Place a popsicle stick in one of their ends. (Tip: if you'd like smaller "boo-nanas," cut your bananas in half).
Microwave white chocolate in a microwave safe bowl for 1 minute. Take out of the microwave and stir. If not melted, microwave for another 30 seconds, then check consistency. Microwave in 30 second intervals until chocolate is melted.
Roll bananas in the melted white chocolate using their popsicle sticks to maneuver them. Once fully coated, stick 2 milk chocolate chips into the banana to act as eyes.
Line a

Solo

®

Heavy Duty Paper Plate with parchment paper, place bananas on the plate, and then let sit in the fridge until the chocolate is hardened, approximately 10 minutes.
Take out of the fridge when you're ready to enjoy (or else the chocolate will begin to melt!). Remove bananas from parchment paper and transfer to a clean Solo®

Heavy Duty Paper Plate, then dig in!
Looking for more unconventional Halloween treats? Check out our guide to Halloween treats and eats!