Hot chocolate is the best way to warm up after a long day of playing in the snow, sledding, or having an epic snowball fight. Whether you're 4 or 40, it provides the same soothing feeling and delicious warmth. One of the best things about hot chocolate is its endless flavor pairings. Whether it's peppermint, hazelnut, caramel, or any other number of flavors, hot chocolate can be made into exactly what you want it to be. Next time you host a holiday party, or simply want to have a fun activity to do with your family, set out a hot chocolate bar!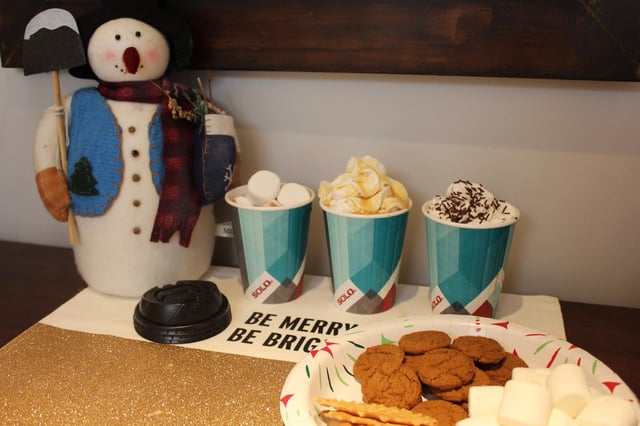 First things first, you have to create your hot chocolate! Here are two ideas:
For the kids...Classic Hot Chocolate
Ingredients:
Solo® Hot Cups

1/4th cup cocoa powder
1/2 cup sugar
1/3 cup hot water
Dash of salt
4 cups of milk
Directions:
Combine cocoa, sugar, dash of salt, and water in a saucepan over medium heat. Stir until boiling, then continue to stir for another minute.
Add the milk, making sure it doesn't come to a boil. Continue to stir.
Remove from heat, and enjoy in a

Solo® Hot Cup

(but be careful not to burn your tongue!)
For the adults...Spiked Hazelnut Hot Chocolate
Ingredients:
Solo® Hot Cups
1.5 cups milk
1/2 cup hazelnut spread
4 oz's chocolate liqueur
Directions:
Bring the milk to a simmer in a saucepan over medium to high heat.
Add the hazelnut spread. Stir until it has fully melted and combined with the milk.
In two

Solo® Hot Cups, add 2 oz's of chocolate liqueur to each.

Pour the hot chocolate into each cup, stir each to make sure that the liqueur and hot chocolate are combined, and then enjoy!
Now it's time for the toppings! In Solo® Heavy Duty Paper Bowls and Plates, set out additions like sprinkles, candy canes, marshmallows, chocolate chips, graham crackers, gingersnaps, cookies, chocolate dipped pretzels, or whatever else you may want to add! Also have cinnamon, vanilla, whipped cream, caramel sauce, and chocolate sauce on hand. Get creative!
Some of our favorite flavor combinations:
1/4th tsp vanilla + candy cane + whipped cream + sprinkles
Whipped cream + cookie crumbles + chocolate sauce drizzle
1/4th tsp vanilla + marshmallows + caramel sauce drizzle + graham cracker crumbles
What are your favorite flavor combinations? Let us know!