We've shown you how to create the perfect outdoor dessert buffet and the way to masterfully make a no mess ice cream sundae--why not combine the two and throw an ice cream social? It's the perfect party theme for a hot day, and we've got just the game to keep all your guests having a blast: the Ice Cream Toppings Toss.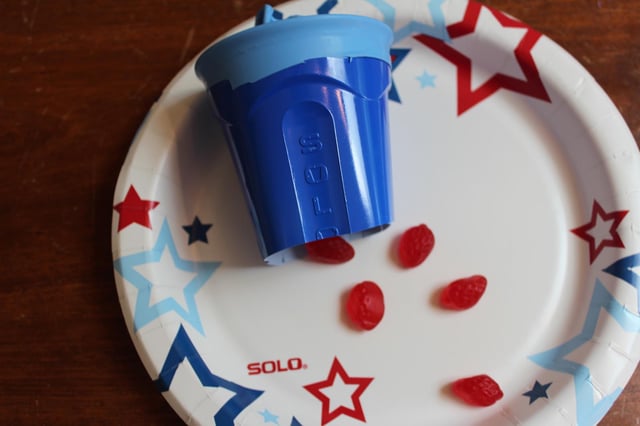 Ice Cream Toppings Toss is a game similar to bean bag toss, but rather than tossing bean bags you are using ice cream toppings. That's not the only twist: instead of tossing the ice cream toppings, you are shooting them using a DIY slingshot! Finally, rather than shooting the toppings into circular cut outs, you're shooting them into a giant ice cream cut out. Sound fun? Well, you're absolutely right about that!
What you'll need:
A large sheet of cardboard
Paint
Craft knife

Solo® Squared® Plastic Cups

Scissors

Balloons

Toppings (we recommend marshmallows, cherries, and small circular candies)
How to Create the Slingshot:
Cut off the bottom of your

Solo® Squared® Plastic Cup

Without blowing it up, knot the bottom of your balloon.
Cut off the round end of the balloon, then stretch it over one end of your cup.
How to Create the Backdrop:
Get a large piece of cardboard and draw an ice cream cone with three scoops of ice cream on it. The middle scoop should be half the size of the bottom scoop, and the top scoop 1/3rd.
Cut away the inside of the scoops, leaving a border so that the scoops remain separated from one another. Do not cut out the inside of the cone.
Get crafty and paint the ice cream! Paint each scoop a different color: have fun with it!
If the cardboard will not stand up on its own, tape two yard sticks (or sticks!) to the back of it and lean it against your fence, home, or a tree.
How to Play: Draw a line a feet away from the ice cream target. Standing on the line, the player will 'load' their Solo Slingshot with a topping (1 marshmallow, a few small candies, 1 cherry), pull back the balloon, and try to shoot the topping into one of the ice cream scoops. If they score on the bottom and largest scoop, the player earns 100 points. The middle scoop earns them 200, the top and smallest scoop 300. The player has 5 turns to try and score as many points as possible!
Find other great summer games for kids here.
Pick up the Solo® products needed at Walmart to play Ice Cream Toppings Toss at your next summer SOLObration! Want to win a SOLObration Sampler? Share your #SOLObration games for the chance to WIN!