There's no drink like the classic Hurricane to give you that French Quarter feeling. Here's everything you need to create a Hurricane bar cart or table. After all, if you can't make it down to the Big Easy this year, there's no reason you can't bring the Mardi to you!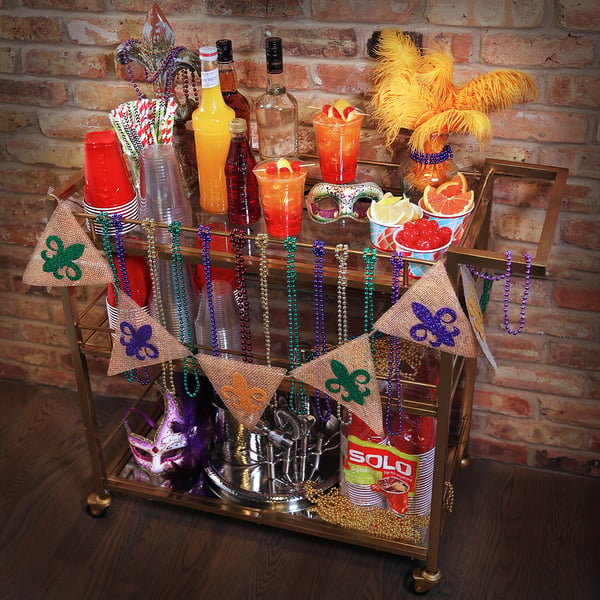 First, let's start with the essentials. You'll want to set out a bottle of light rum, a bottle of dark rum, orange juice and either passion fruit juice or passion fruit syrup. You can also include Grenadine if you'd like. Next, grab some Solo Paper Bowls and set out some cherries along with orange and lemon slices so everyone can mix and match their favorite garnishes. Lime slices would also be appropriate. Add an instruction card so everyone will feel comfortable making the perfect Hurricane.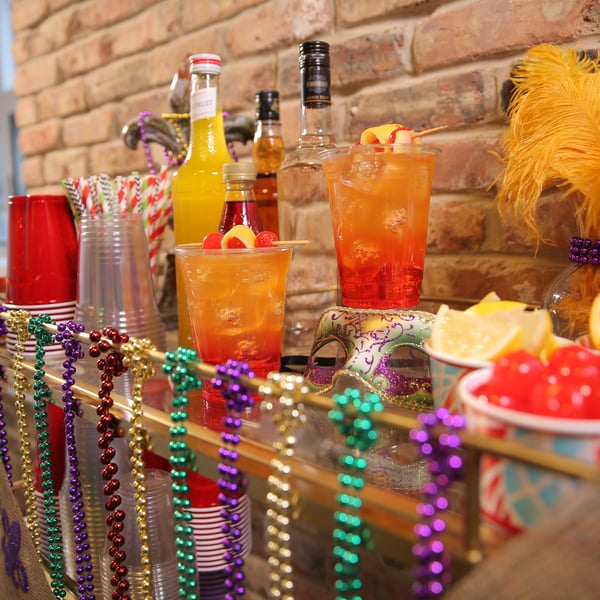 Colorful decorations are an important part of the vibe. Easy go-to's are the Mardi Gras masks and beads that your local craft store will carry. Faux feathers, sequins and the iconic Fleur de Lis are other great thematic options. Bright, bold pops of color is the name of the game. Try to keep your color palette to green, purple, yellow, red and orange.
Want a fun fact to share? According to Behind The Bar:
"Legend has it that the recipe was first devised at Pat O'Brien's during World War II, when whiskey, bourbon, and scotch were scarce and rum was cheap and easy to procure. As the story goes, a liquor distributor strong armed the bar into purchasing an inordinate amount of rum (which was not especially popular at the time) by threatening to withhold delivery of more desirable spirits. Faced with a glut of rum, O'Brien's enterprising owners combined the molasses-derived liquor in a two-to-one ratio with both passion fruit syrup and lemon juice to make it more appealing to customers."
In other words, a bar needed to get rid of a bunch of extra rum. Say hello to the Hurricane! Thank you Pat O' Brien's.
Ingredients:
2 oz. light rum
2 oz. dark rum
2 oz. passion fruit juice
1 oz. orange juice
½ oz. lime juice
¼ oz. simple syrup
¼ oz. Grenadine
Garnish with a maraschino cherry or orange slice.