Here's a STEM project that requires an incredible amount of creativity. Challenge your budding engineers to create a marble run using Solo Cups, Solo Paper Plates and empty paper towel and toilet paper rolls. You'll be absolutely floored by the ingenious structures they will produce.
The cardboard rolls work well for providing height and stability for the structure. Provide glue or tape for kids to use to create strong connections. If you have enough cups they can also be used to fashion similar towers. However, the most fun way to use the cups is as funnels between the different sections of your track. Depending on the number of cups you have some really great spiraling designs can be made.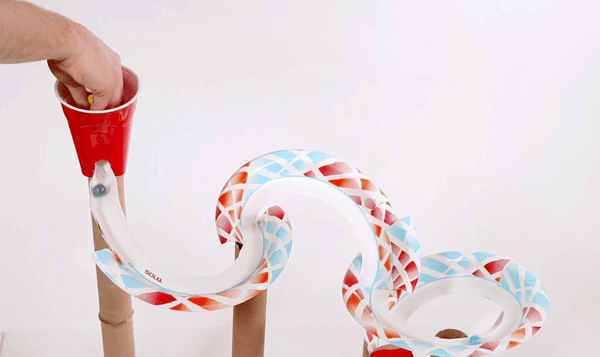 Next, and possibly the cleverest portion of this challenge, is to cut off the edges of the plates to act as longer tracks for the marbles. You'll be amazed at the strength these plate edges possess as the marbles careen across them. Have your track finish on a Solo plate to keep all the marbles in one place.
Did you enjoy this STEM challenge? Check out these STEM activites that are perfect for middle-schoolers.
We would love to see all of the fun STEM activities you use Solo products to create. Please share them with us @solocup on social media. In the meantime, have fun building!