Grilling brings out a deep flavor profile, whether you're grilling chicken, corn, or even pinneaple. Enjoy this zesty corn dish at your next party, barbeque, or family dinner for a pop of flavor that'll have everyone going back for more.
Corn + grill + chili + lime = a SOLObration in your mouth!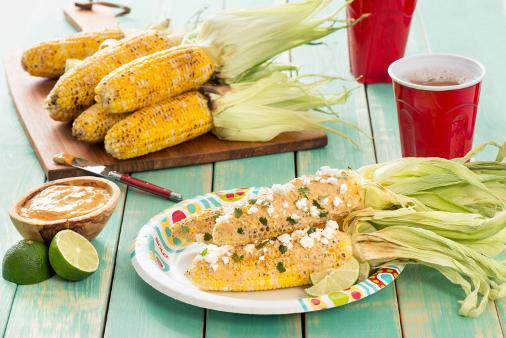 Prep Time: 5 minutes Cook Time: 10 minutes Makes: 6 servings
Ingredients:
1/2 cup (125 mL) mayonnaise
1 tbsp (15 mL) lime zest
1 tsp (5 mL) ancho chili powder
1/4 tsp (1 mL) each salt and pepper
6 cobs of corn
2 tbsp (30 mL) olive oil
1/2 cup (125 mL) finely crumbled Cotija or feta cheese
1/4 cup (60 mL) finely chopped fresh cilantro
Lime wedges
Directions:
Preheat grill to medium-high heat; grease grate well. Stir mayonnaise with lime zest, chili powder, salt and pepper; set aside.
Pull back husks and silk on corn cobs. Brush corn with oil; grill corn, covered, turning occasionally, for 8 to 10 minutes or until well-marked and tender.
Brush mayonnaise mixture evenly over top; sprinkle with cheese and cilantro. Serve with lime wedges.
Tip:
Substitute chipotle chili powder or chili powder for ancho chili powder!
Check out more summer food tips in our Guide to the Ultimate Summer Party.
Looking to enjoy this meal with friends and family? Head to Walmart to pick up all the SOLO® products you need to make it a reality!